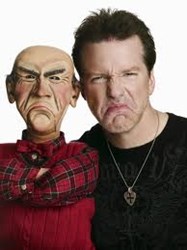 Denver, Colorado (PRWEB) October 08, 2013
Comedian Jeff Dunham is way out of line. He keeps pulling opinionated puppets out of his suitcase who have the nerve to say things you're not supposed to say: politically incorrect and controversial things, racial and offensive things.
But guess what? Audiences love him. Last year, his Controlled Chaos Tour sold out. This year, his Disorderly Conduct trek is headed in the same direction.
"Jeff Dunham tickets are currently one of our highest sellers," said Felina Martinez at online ticket marketplace BuyAnySeat.com.
The funny man and his smart-mouthed puppets hit the road in September with a swing through Denmark, Netherlands, Iceland, Norway, and Sweden.
Next, Dunham and his saucy smart-alecks open their upcoming 57-date North America leg at the WFCU Centre in Windsor, Ontario on October 23, 2013.
From there, the crew hits Kitchener, Kingston and Ottawa, Ontario; Glens Falls, New York; University Park, Penn.; Indianapolis, Indiana; Huntington, West Virginia; Roanoke and Norfolk, Virginia; Halifax, Nova Scotia; St. John, New Brunswick; Bangor, Maine; Providence, Rhode Island and Trenton, New Jersey in November.
"Jeff Dunham continues to reward fans with skits that are current and relevant, and outrageous," said Martinez. "His shows always sell out.
"That's why we're proud to be able to offer fans the most comprehensive and continuously refreshed selection of tickets online, with a worry-free guarantee to protect their purchase," said Martinez.
"In fact, we have a great selection of Jeff Dunham tickets now available on our site," said Martinez. "Fans can go to BuyAnySeat.com and search for Jeff Dunham – then select their tickets."
In December, dates in Fayetteville, North Carolina, Fairfax, Virginia; Pittsburgh, Penn.; Lexington, Kentucky, Evansville, Indiana; Las Vegas, Nevada; Toledo, Ohio; Buffalo, New York; Wilkes Barre and Reading, Penn; Baltimore, Maryland and Hartford, Connecticut are planned.
After the new year, the tour hits Nashville, Tennessee; Atlanta, Georgia; Birmingham, Alabama; Knoxville, Tennessee, Columbia, South Carolina; New Orleans, Louisiana; Pensacola, Jacksonville, Sunrise, and Daytona Beach, Florida in January.
In February, the stops include Minneapolis, Minnesota; Milwaukee, Wisconsin; St. Charles, Missouri; Wichita, Kansas; Lincoln, Nebraska; Kansas City, Missouri; North Little Rock, Arkansas; Dallas, Texas; Des Moines, Iowa; Moline and Champaign, Illinois.
March dates are set for Southaven, Mississippi; Las Cruces, New Mexico; Phoenix, Arizona; Rio Rancho, New Mexico; Loveland, Colorado; Portland, Oregon; Nampa, Idaho and Reno, Nevada on March 29, 2014. The current wrap is set for the Sleep Train Arena in Sacramento, California on March 30, 2014.
Jeff Dunham is so versatile, he can actually do four or five different voices and characters all having a conversation at the same time – albeit in his wild, witty, timely, tasteless, tacky, tawdry, silly, salty, relevant and irreverent way.
His cast of punchy puppets includes Walter – a cranky, bitter old curmudgeon; Bubba J. – the dimwitted beer-guzzling white trash talker with his off color opinions; and his most notorious character – Achmed, the Dead Terrorist – who is often considered the funniest part of the show.
As one reviewer wrote, it takes a talented guy to get an audience applauding over suicide-bomber jokes.
To shop for discount Jeff Dunham tickets, visit BuyAnySeat.com.
About BuyAnySeat.com: An online ticket marketplace, BuyAnySeat.com connects sports, theater and other live entertainment fans to an extensive worldwide network of ticket sellers. The site's simplified listings and navigational tools enable fans to easily locate, compare and purchase inexpensive, discounted or lower-priced tickets to virtually all advertised sports and entertainment events around the globe.
The marketplace, which is PCI-compliant and Norton Secured, also provides customers with a complete Worry-Free Guarantee on all ticket purchases. Based in Denver, Colorado, BuyAnySeat.com is a subsidiary of Denver Media Holdings. For more information, please visit http://buyanyseat.com.