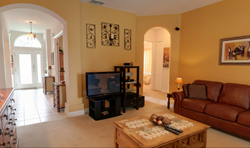 I spent a lot more money on my last road trip as I did going to Orlando Florida and staying with A Plus Vacation Homes was really affordable and relaxing. - Keith Mayors
Orlando, FL (PRWEB) October 10, 2013
A Plus Vacation Homes, an Orlando, Florida property management agency, sees three consecutive years of tourism rising as Orlando rental homes. Revenue from vacation homes in Orlando Florida indicate an increase in travelers from other countries and the popularity of homes for rent by agencies like A Plus Vacation Homes. Combined travel and tourism rose 3.3-percent since 2011. Approximately 4.2-million international tourists visited Orlando since the beginning of the year.
International flights bring tourists
Disney vacation homes and vacation homes in Orlando, Florida continue to take in tourists who fly in nonstop from Panama and the popular resort city, Cancun. The increased overseas tourism comes from the addition of several international flights now landing at local airports. These flights offer low fares and several flights a week, which attracts tourists with leisure money to spend.
Carriers from the Caribbean and Asian arrivals keep rental management companies like A Plus Vacation Homes, busy year around. The rental home industry booms as tourists find rental homes better meet their needs for comfort and affordability.
Return guests bring family and friends
Return tourist often bring family or friends and share the rental home experience. The growth of the industry accounts for a large portion of Orlando's hospitality revenue. Tourists choose homes with 3 bedrooms or up to 7 bedrooms and a 16-person capacity. These homes rent for less than a luxury hotel room and have many amenities luxury hotels do not offer.
Amenities to look for
Reserve Disney vacation homes located within minutes of the theme park and central to shopping. The amenities offered include:
Swimming pools
Hot tubs
Game rooms
Full kitchens
Included cookware
Stocked linen closets
Wireless internet
Satellite television
Rental homes are available throughout the Orlando, Florida area and located near:
Disney World
Epcot
Universal Studios Orlando
Sea World
Islands of Adventure
Wet 'n Wild Orlando
Discovery Cove
Relax after a day at a theme park
After a day at one of the Orlando area theme parks, tired tourists look forward to returning to a home where an evening of relaxation awaits. Hotel rooms become cramped and uncomfortable with little space for spreading out to relax. Meals eaten out or ordered from room service become expensive. A rental home affords each guest room to relax or work without interrupting another's space.
Eat in and save money
A full kitchen saves food money and families can eat in the quiet privacy of the home. A rental home will not fill with outside noise from the swimming pool or other common areas like hotel rooms. Rental homes in luxury neighborhoods offer quiet luxury and save money.
Air carriers continue adding flights into Orlando, Florida and tourism increases as the number of international tourists increase each quarter. The rental home industry grows with tourism and no indication exists to suggest the trend will slow down.