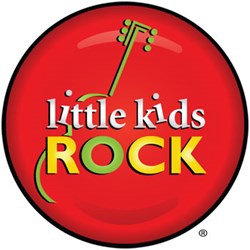 New York, NY (PRWEB) October 08, 2013
To ensure the continuation and revitalization of music education in economically-challenged public schools across the country, non-profit organization Little Kids Rock will host its 5th annual Right to Rock Benefit, on Thursday, October 17th at Cipriani Wall Street from 6:30-10:00 p.m. Amid musical performances and appearances by special guests including Steven Van Zandt, Brian Wilson and Jake Clemons, Rock and Roll Hall of Fame inductee and star of "Twenty Feet from Stardom," Darlene Love will be honored with the "Big Man of The Year Award" for her continued dedication to music in the classroom.
The "Big Man of The Year Award" is given annually to honor the legacy of the late Clarence Clemons. Love joins past recipients including Steven Van Zandt, Lady Gaga, Bernie Williams and The Big Man himself. Little Kids Rock will also honor chairman of Hard Rock International, Jim Allen, with the award being presented by honorary board member Steven Van Zandt.
"Children today need the arts more than ever to sustain them and help them tackle the many obstacles they face in school," said Darlene Love. "Music education gives students a release, and Little Kids Rock helps so many children realize their own talents. Since the very first school I visited in Jersey City, I've had an amazing experience supporting an organization whose work I find so special and important."
The Right to Rock Benefit brings together an all-star celebrity lineup for a night of guest appearances and musical performances that will rock the house while raising awareness, and funds, to bring free music instruction and donated instruments into public schools hit hardest by budget cuts.
"Darlene Love's dedication to transforming children's lives through music is inspiring," said David Wish, Little Kids Rock's Founder and Executive Director. "This type of commitment to the community is strongly tied to Little Kids Rock's mission, making it an easy decision for us to honor Darlene for all of her work."
A focal point of the evening will be a live and silent auction featuring unique donated items like dinner with Maureen and Steven Van Zandt, a signed guitar by Bruce Springsteen and the E Street Band, a tour of the famous Carlo's Bakery, and the opportunity to play onstage with the evening's performers. All proceeds raised during the live and silent auction will enable Little Kids Rock to bring free lessons and instruments to over 110,000 disadvantaged public school students in 12 states. Auction items will be available online from October 10th to October 29th at http://www.charitybuzz.com/lkr.
Limited table sponsorships are now available for purchase by visiting http://www.littlekidsrock.org/righttorock2013/reservations or call 973-746-8248.
About Darlene Love
Rolling Stone Magazine proclaims Darlene Love "one of the greatest singers of all time."
In the sixties, Darlene Love sang lead on a string of Phil Spector-produced hits including "He's a Rebel", "Zip-A-Dee-Doo-Dah", "(Today I Met) The Boy I'm Gonna Marry", "Wait Til My Bobby Gets Home", "Why Do Lovers Break Each Other's Hearts?" and the seasonal classic "(Christmas) Baby Please Come Home". In addition, she sang background vocals on numerous other Spector produced hits including the Crystals' "Da Doo Ron Ron," the Ronettes' "Be My Baby", the Righteous Brothers' "You've Lost That Lovin' Feelin' and Tina Turner's "River Deep – Mountain High".
In the seventies, Darlene Love joined Dionne Warwick, singing backup for her on records and on tour. She also sang on the Warwick-hosted TV show Solid Gold, which debuted in 1980. Love also took on dramatic roles, appearing in all three Lethal Weapon movies and a stage adaptation of Stephen King's Carrie.
From August 2005 until April 2008, Darlene Love starred as Motormouth Maybelle in Broadway's Hairspray. In 2011, Darlene Love received the highest honor in rock music. She was inducted into the Rock & Roll Hall of Fame.
Darlene Love can be seen in Twenty Feet From Stardom (Radius-The Weinstein Company), a documentary film about the world of backup singers released nationwide. Darlene Love also appears on the film's soundtrack, releasing from Columbia Records.
About Little Kids Rock
Little Kids Rock is a 501 (c) (3) nonprofit organization that transforms children's lives by restoring and revitalizing music education in public schools. Little Kids Rock was founded in San Francisco in 2002 by David Wish, an elementary school teacher who had grown frustrated with the lack of music education funding at his school. Today, Little Kids Rock is the leading nonprofit provider of free lessons and instruments to underprivileged children in US public schools, and has served more than 250,000 students at over 1,700 schools in 25 cities nationwide. Little Kids Rock Honorary Board Members include Steven Van Zandt, Bonnie Raitt, Slash, Paul Simon, B.B. King, Ziggy Marley and other famous friends in the music industry. More info at: http://www.littlekidsrock.org.
About Hard Rock International
With a total of 175 venues in 54 countries, including 139 cafes, 17 hotels and 7 casinos, Hard Rock International (HRI) is one of the most globally recognized companies. Beginning with an Eric Clapton guitar, Hard Rock owns the world's greatest collection of music memorabilia, which is displayed at its locations around the globe. Hard Rock is also known for its collectible fashion and music-related merchandise, Hard Rock Live performance venues and an award-winning website. HRI owns the global trademark for all Hard Rock brands. The company owns, operates and franchises Cafes in iconic cities including London, New York, San Francisco, Sydney and Dubai. HRI also owns, licenses and/or manages hotel/casino properties worldwide. Destinations include the company's two most successful Hotel and Casino properties in Tampa and Hollywood, Fl., both owned and operated by HRI parent company The Seminole Tribe of Florida., as well as other exciting locations including Bali, Biloxi, Chicago, Cancun, Las Vegas, San Diego and Singapore. Upcoming new Hard Rock Cafe locations include Johannesburg, Chennai, Istanbul and Tenerife. New Hard Rock Hotel projects include Ibiza, Daytona Beach, Palm Springs, Aruba, Riviera Maya, Abu Dhabi and Shenzhen and Haikou in China. New Hard Rock Casino projects in development include Hungary and Northfield, OH. For more information on Hard Rock International, visit http://www.hardrock.com.