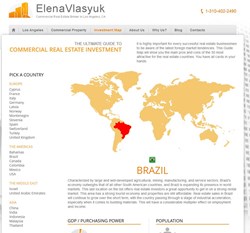 (PRWEB) October 09, 2013
Commercial real estate is not always localized; in fact, it's often global in scope. In recognition of the worldwide reach of modern day commercial real estate, ElenaVlasyuk.com has added a global investment map to the website.
The Commercial Real Estate Investment Map includes the following information on thirty countries: (LINK) http://www.elenavlasyuk.com/commercial-real-estate-investment-guide/.

General information about the country
GDP / purchasing power
Population
FDI inflow
Investment freedom
Inflation (cpi)
Unemployment
The Commercial Real Estate Investment Map is another useful tool for commercial real estate investors available on ElenaVlasyuk.com. This joins the commercial property listing guide including extensive photo coverage of the properties and a well-researched blog, making it one of the most useful commercial real estate sites on the web.
Elena Vlasyuk is a Los Angeles-based commercial real estate agent with Keller Williams Realty. Her knowledge of the area combined with people and negotiating skills keep her in high demand in the fast-paced world of commercial real estate.
The office is located in the Beverly Hills neighborhood of Los Angeles at 439 N. Canon Drive. The phone number is 310-402-2490.