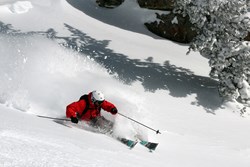 SKI magazine's 2014 Reader's Survey praises the ski area as #1 in Challenge and Variety of terrain.
Jackson Hole, WY (PRWEB) October 10, 2013
They're celebrating in Jackson Hole, where Jackson Hole Mountain Resort was just named #1 Resort in North America on SKI magazine's 2014 Reader's Survey, which praises the ski area as #1 in Challenge and Variety of terrain, as well as for character – calling Jackson, Wyo., "a real town with deep Western roots." And thanks to a new Value Ski Package from the Wyoming Inn, located in the town of Jackson – plus new non-stop flights from additional cities for the 2013/14 ski season – coming to see what all the Jackson Hole skiing "we're #1" fuss is about is easier than ever.
The Wyoming Inn's special lift-and-lodging package starts on Jackson Hole's opening day, November 28, and continues through March 31 end-of-season (blackout days may apply). The Value Ski Package offers the best of both worlds with a free shuttle for easy access to Jackson Hole Mountain Resort slopes and the chance to explore the town of Jackson's famed authentic charm, from nationally reviewed dining and nightlife options to a thriving arts scene and unique shopping opportunities.
The new Value Ski deal offers a three-night/ two-day ski package for two for $370 per person (double occupancy), including two days of lift tickets for two people. Those wanting to extend their powder days in Jackson Hole's Teton Mountains can take advantage of the four night/three day package for $525 per person, which includes three days of lift tickets.
New non-stop air service to the Jackson Hole Airport is now available from New York's JFK airport, Seattle and Los Angeles by Delta Air Lines, in addition to previous flights from Atlanta, Minneapolis and Salt Lake City. United Airlines will expand service from Newark, in addition to its regular service from Chicago, Denver, Los Angeles and San Francisco. American Airlines will provide service from Dallas/Fort Worth.
The Wyoming Inn recently debuted all-new guest rooms and baths, part of a $4.5 million down-to-the-studs renovation. The luxurious rooms offer sophisticated Western styling, plus "connected traveler" tech upgrades. Conveniently located in the town of Jackson, Wyo., just 20 minutes from Jackson Hole Mountain Resort, the Wyoming Inn provides a shuttle service to take guests to and from the resort—as well as a free airport shuttle.
Company Information: The Wyoming Inn is known for its spacious, comfortable rooms, luxurious amenities and warm Western hospitality. True to its mission of providing outstanding customer service, a friendly staff is on-hand to arrange a variety of Jackson Hole activities suited to guest interests. The hotel provides numerous complimentary offerings including an on-site fitness center, internet and laundry. Airlines serving Jackson Hole include Delta, United and American. For information and reservations, visit http://www.wyominginn.com or call 800.844.0035.
Media Contacts: General Manager Michael Solis, Wyoming Inn, mike(at)thewyominginn(dot)com, 307.734.0035; Darla Worden, WordenGroup Strategic Public Relations, darla(at)wordenpr(dot)com, 307.734.5335