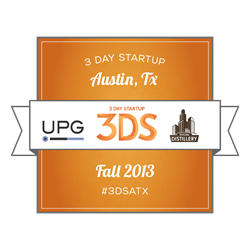 "It's an exciting time for aspiring and established startups to come together." - Kristen Sussman, CEO of Social Distillery
Austin, TX (PRWEB) October 08, 2013
Startups, Social Distillery, Inc. and UPG Video, are partnering with global non-profit organization, 3 Day Startup, to help aspiring entrepreneurs this Fall at 3 Day Startup Austin hosted at Austin Technology Incubator in conjunction with The University of Texas. As graduates of The University of Texas, the company founders, Kristen Sussman and Ben Cecil, will showcase collaborative and innovative services that local startups can offer.
Founded in 2008 at UT, 3 Day Startup ("3DS") has spread to countries and universities around the world. The program teaches entrepreneurial skills to university students in an extreme hands-on environment. "3DS provides future entrepreneurs with the education and resources to build successful companies under tight time constraints," said Madeline Vu, Program Manager at 3DS. "Students have the opportunity to connect with potential cofounders, mentors, and investors." Participants come from a wide range of backgrounds, including computer science, engineering, design, and business. The high energy program culminates on day three with investor pitches and live demos from student teams.
Ben Cecil, Director of Marketing Strategies at UPG Video, spoke to the value of the program for students saying, "3DS is such a great opportunity for students who have the entrepreneur spirit and a big idea to go with it. As startups ourselves, we're excited to tell their stories and provide any other help along the way. Showcasing the strength of the startup community here in Austin is important to us."
Reports from The Princeton Review list The University of Texas as one of the Top 10 Graduate Schools for Entrepreneur Programs in the U.S. This announcement comes after Forbes named Austin as one of the top cities for entrepreneurs and startups fueled by events like South by Southwest. Startup culture is receiving more attention in the Texas capital thanks to the increasingly popular ATX Startup Week that has connected thousands of startups across the city.
"You can feel the buzz in the city when you mention the word 'startup,'" said Kristen Sussman, CEO of Social Distillery. "It's an exciting time for aspiring and established startups to come together to show the best of Austin. We believe it's important to be a part of it and really fuel the growth." Social Distillery and UPG Video will continue to collaborate in 2014 on additional content marketing projects for B2B companies in the tech industry.
In addition to providing on-site, real-time marketing support, Social Distillery and UPG Video will manage and monitor social media contests geared to engage students during the 3 Day Startup program. Prizes will support their entrepreneurial growth and include free office hours with local entrepreneurs and tech and design mentors. 3 Day Startup Austin will be Friday, October 18 - October 20, 2013. To learn more about the weekend http://austin.3daystartup.org/
About Social Distillery
Established in 2011, Social Distillery, Inc. is a private company based in Austin, Texas. The agency provides professional social media marketing services to local, national and global clients, including community management, consulting and social business strategy development. The two founders are alumnae of The University of Texas Department of Advertising master's program. Social Distillery supports social media activities for a number of companies; some include NetIQ, Jive Software, OWC (Other World Computing), Spredfast, MakerSquare, Yoga Yoga and Texas Music Water. For more information, visit http://www.socialdistillery.com.
About UPG Video
UPG is a video strategy and production company that tells stories that drive demand. Stories that communicate the value of a service, product, culture or experience. Stories that build a bigger picture narrative. Stories that a make up a strong, measurable video strategy. For more information, visit http://www.upgvideo.com/.
About 3 Day Startup
3 Day Startup (3DS) teaches entrepreneurial skills to university students in an extreme hands-on environment. In addition to supporting budding entrepreneurs, 3DS programs cultivate entrepreneurial communities that contribute to the growth of entrepreneurship ecosystems in the regions surrounding these university programs. This proven program provides students the tools they need to start successful companies. To date, more than 41 companies have come out of 3DS to collectively raise $14.5 million in investor capital and more than a dozen have been accepted to prestigious incubators and accelerators such as Y Combinator and TechStars. For more information, please visit us at http://www.3daystartup.org.