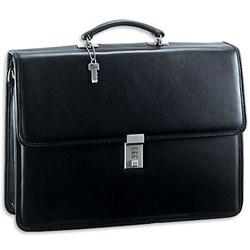 Cut from Tuscan leather and adorned with polished nickel, this is the kind of briefcase that just exudes class.
Los Angeles, CA (PRWEB) October 15, 2013
With the economy picking up and the market for business-ware and accessories growing, the up-and-coming business case e-store, Gotbriefcases.com has just announced that it will now include Jack Georges briefcases for men as part of its extensive collection.
With the holidays just around the corner and new jobs numbers suggesting that hiring could be just about to heat up, the online retailer is poised to make a splash this season.
What is the big deal about these products?
To begin, the newly added Jack Georges collections are some of the best Italian leather brief cases on the market. Take the Platinum Double Gusset Combination Lock Leather Briefcase. Cut from Tuscan leather and adorned with polished nickel, this is the kind of business case that just exudes class. But, it's not just about looks. This leather carrier for men is also made to last, and to look good doing so.
"And that is just one of the Jack Georges briefcases that you will find at our online store," notes Vahram Tovmasyan, founder and CEO of GotBriefcases.com. "We are proud to have these top line business cases as part of our flagship and hope to be adding even more Jack Georges' collections in the future."
When asked what type of man these cases appeal to, Tovmasyan is quick to reply: "These brief cases appeal to all serious businessmen because it is a true man's briefcase. What I mean by that is that the natural leathers of the bags appeal to the ruggedness of masculinity while the exquisite design captures our logical, no-nonsense attitude. That is what has made these briefbags one of the number one choices for business people today."
And the addition of these new Jack Georges adds even a wider variety of choices to the GotBriefcases.com website, whose carriers range from laptop cases and messenger bags that appeal to the younger set, to super safe and durable aluminum carriers and luggage collections that are popular with the frequent flyer segment.
With so many choices, many are coming to see Gotbriefcases.com as the hub for business luggage and accessories of all kinds.
GotBriefcases.com is an up and coming online provider of fine luggage and work cases. Geared to the tastes and needs of the 21st Century traveler and business person, GotBriefcases.com's wide array of briefcases, laptop bags, travel cases, and messenger bags are perfect for the modern consumer regardless of price point or stylistic needs. Here costumers find the best briefcase designers and the highest quality bags. Put simply, this online store is the destination for briefcase or carry-ons. When it comes to finding the right case, GotBriefcases.com has it in the bag.
Those who would like to find out more about Jack Georges briefcases for men may visit the GotBriefcases website here: http://www.gotbriefcases.com.