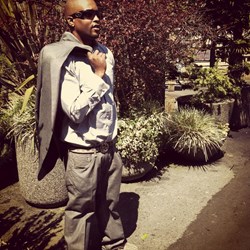 Stay 100 percent true to yourself, and stay focused and determined on your dreams and goals in life, because they can come true.
Miami, Florida (PRWEB) October 08, 2013
The Seattle community is thrilled over the recovery of hip hop artist / storyteller Mr. Benjamin, also known as the People's Champ. As covered in the Seattle Times, the star nearly lost his life after suffering a brain aneurysm, then battling sickness a few months after. This comes years after enduring 2 open heart surgeries by the age of 21. It's a testament to his resilience as he has overcome so much in his young life.
Ben Smith, professionally known as Mr. Benjamin and his family credit his remarkable recovery as a miracle. "I praise God that he allowed me to not only survive back-to-back illnesses but to aggressively continue in my music career—performing and touring," said Mr. Benjamin. Currently, music enthusiasts can find his new digital single release, Diamond Shining, and his EP, Floc-A-Birds, on iTunes.
Introduced to music by his aunt at a young age, the People's Champ dreamed of becoming an entertainer, songwriter, recording artist and entrepreneur. He says, "my inspiration to hip hop I owe to Run DMC, LL Cool J and Slick Rick, the greatest of all time hip-hop icons." Their influence helped Mr. Benjamin form his own unique style that is attracting worldwide followers.
More than the average hip-hop star, however, he sees the importance of faith, family, and giving back to the community. He created an educational program, School Is Cool, to inspire Seattle Washington's inner city youth to see the importance of education and the role it plays for success in their life. Visiting elementary, middle, and high schools to interact with kids and to lecture, he also awarded high school students with CDs, gift cards, and apparel for those who enter and win for best essay in Mr. Benjamin's essay contest.
Inspiring young people is the passion behind what he does. Offering advice to kids, he says, "Stay 100 percent true to yourself, and stay focused and determined on your dreams and goals in life, because they can come true."
Mr. Benjamin has volunteered his time at local food banks and has also mentored the youth within the inner city Seattle communities.
He believes that without mentors, kids won't succeed. And he credits his own mother and grandparents for making him in to the person he is today.
About Mr. Benjamin, the People's Champ
Raised by his mother in Seattle Washington's Central District and Southend, he considers his upbringing in the inner city as a significant part of what influences him as a person. Considered a storyteller over a rapper, he defines his style as "The Northern Flow." A successful recording artist with BJ&J Entertainment, music enthusiasts can follow Mr. Benjamin on Twitter, Instagram, YouTube and his website: http://www.mrbenjamin2008.com/. An artist who has an amazing success story - a product of his environment, society's child!
For more information, contact:
Press and Media Manager
RainySongs Entertainment, LLC
Tel: 800-756-7717
Fax: 914-560-RAIN (7246)
Website: http://www.rainysongs.com
Skype: Rainysongs