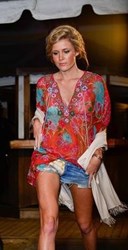 Being able to help the cause through the celebration of fashion is at the heart of what we promote – fashion with a social mission.
New York, NY (PRWEB) October 08, 2013
Austism Speaks and the designers of Yatra Collection heard it loud and clear.
"One in 88 American children suffer from autism," said Rati Bahadur, who co-founded Yatra Collection with longtime friend, Gayatri Khosla.
The Yatra Collection is a private designer label based out of New York, NY and Yorktown, VA that unveils several new collections each year, all of which are handcrafted by artisans in India.
"We are both mothers and would want nothing more than to help find a cure and ways to prevent autism from impacting children. Being able to help the cause through the celebration of fashion is at the heart of what we promote – fashion with a social mission."
Yatra Collection just completed their debut on the runways of the Chattanooga Fashion Week in Tennessee, which helped raise awareness of children on the autism spectrum and money for Autism Speaks.
Autism Speaks, founded in February 2005 by Bob and Suzanne Wright, grandparents of a child with autism, is the world's leading autism science and advocacy organization, dedicated to funding research into the causes, prevention, treatments and a cure for autism; increasing awareness of autism spectrum disorders; and advocating for the needs of individuals with autism and their families.
Chattanooga Fashion Week is an art and fashion event with the ultimate goal of creating buzz and giving a relevant outlet to fashion houses, buyers, and culture enthusiasts in Chattanooga and beyond.
"This event was perfectly planned and truly connected luxury designers to the men and women who see fashion as a way to express themselves," Bahadur said. "There has been a rich and thriving fashion community in Tennessee and we really saw that come out during fashion week."
Earlier this season, Yatra Collection was also featured at the Martha's Vineyard Fashion Week and later this month will showcase its latest designs at the VA Fashion Week, a premier fashion event that showcases emerging designers and models from up and down the East Coast.
The Virginia fashion events will take place in Virginia Beach on Oct. 9 and 10 and then move to historic Williamsburg Oct. 11, 12 and 13.
Now in its sixth season, the VA Fashion Week grows in size and recognition each year and helps raise money to support awareness of and research into breast cancer through The Bra-ha-ha.
This fall and winter, Yatra will travel to, among other locations, Newport News and Richmond, VA., Raleigh, NC, Tampa, Fl., New York, NY and Greenwich, CT for showings of the collection.
ABOUT THE YATRA COLLECTION: FASHION WITH A SOCIAL MISSION
Long-time friends since they were together at a boarding school in India, Gayatri Khosla and Rati Bahadur knew that they would one day merge their creative interests in fashion and design to create their own label. Their complementary styles, interests and expertise have allowed them the freedom to bring the vibrancy and exclusive handcraftsmanship of India to the western shores.
Yatra means journey or procession. And that's what the collection has been for Khosla and Bahadur. They design and work with high-end artisans to put together a collection a few times each year. They travel to India and immerse themselves in the chaos, and the vivid abundance of exquisite craftsmanship of artisans, two aspects that exist side by side and are so typical of India. It is in India that the designs come to life.
The Yatra Collection focuses on simple silhouettes, classic pieces and perfect tailoring.
Featured pieces include hand-dyed pashmina stoles with suede fringe, natural stone jewelry crafted by hand, sari-inspired shirts, hand-beaded tunics and more.
Learn more about the Yatra Collection at http://www.yatracollection.com. A limited selection of Yatra Collection items are available for purchase online.
Interested in featuring Yatra Collection in a boutique or upcoming fashion event? Contact Yatra Collection at yatratrunkshow(at)gmail.com.