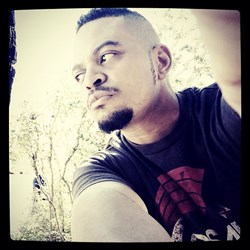 (PRWEB) October 08, 2013
"Chris Stokes is a directing talent I have had my eye on since 'You Got Served' and 'Battlefield America'; I was amazed to see him step into a new genre and create such a highly impactful and terrifying film in making "The Helpers". Chris gathered some truly talented young actors as well. After watching this film the viewer knows they have been served! No question about it." – Stan Wertlieb, Grindstone Entertainment Group, Head of Acquisitions
As Chairman of Footage Films Mr. Stokes is proud to partner with Grindstone Entertainment for his new Horror Movie "The Helpers". Chris Stokes is the writer and director of the mega-hit 2004 movie, "You Got Served," which started the Dance craze on the big screen grossing over $50 million. Chris Stokes, writer, director, TV and film producer says, "I'm excited to partner with Grindstone for my movie "The Helpers". Chris Stokes released the horror films Somebody Help Me and Somebody Help Me 2, which made the creative director dive into horror films. In "The Helpers", the creative mastermind surpasses his expectations in the horror scenes to give the audience a first hand experience into what's going on in the story.
In talking with Mr. Stokes I asked him about "The Helpers". He described the horror film as a brave new twist on horror. Stokes put together a hot new cast that included the likes of Dallas Lovato, sister of the beautiful pop superstar and actress Demi Lovato. After seeing the gruesome horror scenes from "The Helpers" this film looks to have a great impact on Horror movie followers worldwide. "The Helpers" are here to help you die.
To learn more about Chris Stokes and Footage Films, visit his official website: http://officialchrisstokes.com/.
For media inquiries, please contact Richard Hall 626-367-2848 or J Owen (310) 803-3336 and by email at footagefilmspr(at)gmail(dot)com.
Website: chrisstokesent.com
The Helpers Website: http://www.thehelpers-movie.com
The Helpers Facebook: facebook.com/thehelpersmovie
Twitter: twitter.com/chrisstokes1969
IMDB Biography page: http://www.imdb.com/name/nm0831321/bio
Chris Stokes Linkedin: linkedin.com/in/chrisstokes
Grindstone Entertainment Group Website: http://thegrindstone.net/
Lionsgate Website: http://www.lionsgate.com/