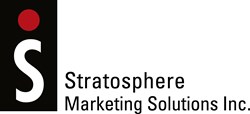 "We're so pleased to welcome Stuart to our growing team. His years of experience in the industry and his keen sense of online digital marketing make him the perfect selection to head our growing insurance vertical"
Westlake Village, CA (PRWEB) October 08, 2013
Stratosphere Marketing Solutions (http://www.joinstratosphere.com) today announced it has hired 20+ year Insurance industry veteran, Stuart Ganis to lead their business development team for the Insurance industry vertical. Stratosphere currently services over 200 agencies in 15 states, and has partnered with many of the country's largest Insurance carriers. With the addition of Mr. Ganis and his ability to train Agencies on how to market to the modern consumer, Stratosphere believes that its Insurance customer base will grow exponentially.
"We're so pleased to welcome Stuart to our growing team. His years of experience in the industry and his keen sense of online digital marketing make him the perfect selection to head our growing insurance vertical", "Stratosphere's cutting-edge programs for Internet marketing, blogging, and social media management seem to be just what this industry is seeking and we're extremely confident in Stuart's abilities to create more exposure within this booming industry", said Jim Hammarstrom, CEO of Stratosphere.
"Agents are actively looking for a solution to leverage blogging and social media. Stratosphere figured out how to provide agencies with a turn-key solution (at a remarkable price point) that allows Agents to focus on what they do best; sell and service insurance. I'm extremely excited to be part of the Stratosphere team and teach Best Practices of Sales and Marketing to Agents across the country" said Stuart Ganis.
About Stratosphere Marketing Solutions
Stratosphere Marketing Solutions, Inc. (SMS) provides turn-key online marketing programs for busy small business professionals. SMS has been helping small businesses of all kinds leverage the power and awareness potential of the Internet, thru blogging services, Social Media, YouTube™, and many other mediums for marketing and staying connected online. With their specific expertise in reputation management and driving sales via Internet search points and Social Media traffic, Stratosphere provides a valuable catalyst through which entrepreneurs can compete with large companies for the same business opportunities. From development, to execution, to analytical support provided to every client; Stratosphere makes it possible for their business customers to see quantifiable return on investment of typically less than $200 per month.