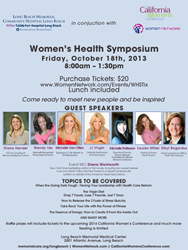 Long Beach, CA (PRWEB) October 08, 2013
On Friday October 18th, where women will learn how to live their best life and Long Beach Memorial Medical Center in conjunction with Women Network will be hosting a Women's Health Symposium to be healthy. This event will empower women to lead stronger and longer lives.
Keynote speakers include CEO of Long Beach Memorial Medical Center; Diana Hendel who received the "Women in Health Administration Women of the Year" Award for 2013 and Michelle Patterson, Founder, Present & CEO of Women Network, a global media platform that gives a voice to organizations that empower women.
Other guest speakers include, JJ Virgin, Celebrity Nutritionist and Fitness Expert, Wendy Ida, Fitness Expert for women over 40, Lauren Miller, Stress Relief Expert and more.
The event emcee will be Diana Wentworth who is the author of the most recent national bestseller Love Your Heart: Follow the Red Thread to the Heart Centered Life written on behalf of the American Heart Association.
Topics to be covered at the event include The Virgin Diet: drop 7 foods, lose 7 pounds, just 7 days; How to release 3 fuels of stress quickly, how to take back your life with the power of fitness, the essence of energy: how to create it from the inside out and flexing your leadership with health care reform.
Registration begins at 7:30 a.m. and the event is from 8:30 a.m. to 1:30 p.m. Tickets are $20 and include lunch. Seated is limited so reserve your ticket now at WomenNetwork.com.