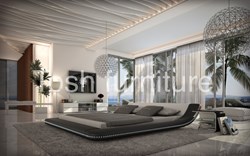 Modern Furniture Store Los Angeles
Lawndale, CA. (PRWEB) October 09, 2013
For nearly ten years, DA Stores LLC has brought exceptional modern home furnishings to consumers around the nation. It began as a small regional furniture company and has grown every year since. With global brand partners, the DA Stores team has been able to do what other companies cannot: offer the highest quality from the biggest brands but at affordable prices. With its free shipping promotions, rewards points and easy financing, it's a formula that has worked well. It's only natural that the company grow.
In what initially began as a digital catalog, DA Stores is proud to announce it will open its first showroom at 16823 Hawthorne Blvd in Lawndale, CA. It will maintain a full inventory of the same brands and products customers have come to trust. This added opportunity will work seamlessly with the continued growth of its online presence.
Located near the intersection of Hawthorne and 169th, the strategic location makes it a convenience for anyone looking to shop for their furnishings onsite.
The goals are the same now as they've always been: to treat customers fairly, ensuring their satisfaction and working to maintain only the latest trends in today's contemporary home furnishings.
The website has always been easy to navigate, now, you can navigate the massive floor space that will proudly showcase the most beautiful home furnishings.
"We've been planning to expand for a couple of years and now that we have, we're eager to make every customer who walks through the showroom floor or who logs into their online account feel as though they're the only customer in the world," said a member of the management team.
Currently, the store opening is slated for October 1st.
You can expect to find exceptional modern sectional sofas, entertainment centers, dining room collections, platform beds, accessories and much more.
Want to ensure your preferred sofa is available in the showroom? Give one of the customer service reps a call at (866) 838 8710.