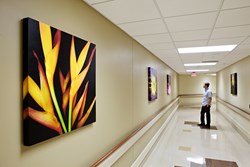 The images now hanging in Meritus Medical Center will provide an opportunity for exploration and well-being for patients, visitors and hospital staff alike.
Caldwell, NJ (PRWEB) October 22, 2013
GlowArtworks recently completed a fine art print installation at Mertius Medical Center in Hagerstown, MD. A total of 17 stretched canvas prints from 8 different artists were installed in a corridor connecting the Emergency Department to the Dining Area. GlowArtworks worked with hospital administrators to develop a theme for the installation that would enhance the patient, visitor and employee experience while at the medical center.
Ryan Smith, producer and art consultant for GlowArtworks said, "Here at GlowArtworks, we are thrilled to be a part of such a positive artwork and health initiative. It is always our goal to help place artwork that engages the eye, imagination and spirit. I strongly believe the images now hanging in Meritus Medical Center do just that and will provide an opportunity for exploration and well-being for patients, visitors and hospital staff alike."
Mary Stuart Rizk, Executive Director of Corporate Communications for Meritus Health said, "I was thrilled to work with the positive and dynamic team at GlowArtworks to bring beautiful art to our busy corridors in an effort to enhance the experience of our patients and their families, visitors and our staff. The gorgeous photographic images have been well-received and reflect the spirit of natural surroundings, health and well-being for people in our hospital and community."