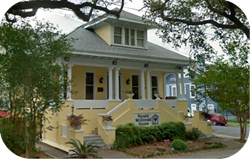 Giving Families Back Their Lives
Greater New Orleans, LA (PRWEB) October 08, 2013
On Saturday September 28, 2013 Ronald McDonald House Charities of Greater New Orleans, Louisiana (RMHC-NOLA) announced the most powerful testimonial for the effectiveness of hyperbaric oxygen therapy in children's neurological disorders. At the annual Ronald McDonald House Hugs and Kisses Chocolate Ball Fundraiser RMHC-NOLA named New Orleans' pioneering hyperbaric medicine physician, Paul G. Harch, M.D. as their honoree.
Since 1993 RMHC-NOLA has been hosting children with neurological disorders from 37 countries and most states in the United States as their families traveled to receive the life and quality-of-life saving treatment, hyperbaric oxygen therapy. Year after year the executives, board, and staff of RMHC-NOLA have witnessed neurological and cognitive improvement in countless children afflicted with cerebral palsy, autism, birth injuries, developmental disorders, genetic disorders, traumatic brain injury, infections, and other debilitating neurological conditions. According to Executive Director Janet Goforth , "We have seen the improvements his work has made in the lives of our guests. When a patient gets better, the entire family heals. We thank Dr. Harch, thank his work, his support of the Ronald McDonald House, and for healing families.
In a moving tribute to RMHC Dr. Harch extolled the critical role RHMC-NOLA has played in providing a sanctuary and oasis for families who leave their personal and medical support systems at home to obtain therapy in an unfamiliar city. The warmth, hospitality, collegiality, and full pantry have provided the comfort and solace anxious families need while obtaining therapy.
Hyperbaric oxygen therapy (HBOT) is a 350-year-old treatment for wounds of any duration in any location in the body. Long known for treatment of divers HBOT has found success in the treatment of wounds to the brain of many different causes. The application to children's neurological disorders has the potential to alter the course of a brain-injured child's life. Thank you to RMHC of Greater New Orleans and all the RMHC sites in the United States for the important role they play in assisting children with medical needs.
Harch Hyperbarics Inc.
Marrero, LA
HBOT.COM
###