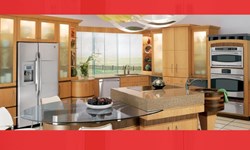 California (PRWEB) October 08, 2013
Two out of every five home fires start in the kitchen, which is why the National Fire Protection chose "Preventing Kitchen Fires" as this year's theme for Fire Prevention Week. Aside from commemorating the Great Chicago Fire of 1871, this event also celebrates brave firefighters everywhere. With this year's Fire Prevention week in full swing, homeowners in California should take the time to actively inspect their homes for any fire hazards, particularly those that start in the kitchen. According to government statistics, 147,000 kitchen appliances catch fire each year. However, there are 5 ways that homeowners can prevent kitchen fires:
1) Observe the microwave's display. If the display looks odd or is not working right, that may be a sign that there is something wrong with the unit. Unplug it and have it repaired immediately.
2) Clean up any grease or oil on cooking surfaces, including stovetops and kitchen counters.
3) Do not overload outlets. Turn off and unplug any appliances not in use.
4) Keep flammables like dish rags and paper towels away from the stove and hot surfaces.
5) Observe proper maintenance of appliances. Have appliances inspected regularly. Repair kitchen appliances as soon as they show signs of trouble. An appliance that has a defect, but "still works" is more dangerous than one that is fully inoperative.
"Fire safety is something that we should be tuned into all year round," says Jon Anderson, Customer Relations Manager for Reliable Appliance Service Company, one of California's leading appliance repair firms. "Fire prevention week should remind us to check and repair our appliances and keep our homes and families safe." Homeowners who want to get service for their appliances and get them inspected for any issue should call Reliable Appliance Service Company. They have offices throughout California, and they offer free service checks with any repair. Reliable Service Company is available 24 hours a day, 7 days a week. They have factory trained technicians who can diagnose and repair all the major appliance brands and help customers prevent fires from starting in their homes.
About Reliable Service Company
Reliable Service Company has been in business for over two decades, and takes pride in providing high quality service. All Reliable Service Co. technicians undergo extensive in-house training, factory training and annual assessments to provide the highest level of service possible on all brands of major households appliances.
Currently, Reliable Service serves most of California. The company's offices are located throughout all major counties to provide fast service. Their technicians are also equipped with the latest GPS equipment to help optimize their routes, and the company has established arrangements with nearly all local and nationwide part distribution centers to provide the fastest service possible. For more information, visit http://www.appliancerepairsservices.com.