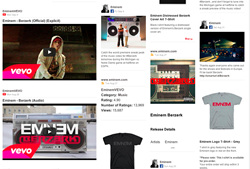 By working closely with more than 150 of their artist sites and labels, we're helping UMG connect fans with artists in an authentic, meaningful way.
San Francisco, CA (PRWEB) October 08, 2013
Livefyre, provider of the leading real-time conversation and social curation platform, today announced that it is powering social engagement across more than 150 label and artist sites managed by Universal Music Group, including Island Def Jam, Interscope Geffen A&M and their respective artists.
Using Livefyre's technology, UMG is integrating real-time social streams of content about their artists from Twitter, Facebook, YouTube and Instagram into their artist and label sites to provide a more rich and engaging experience for their fans. Every site leverages a different mix of real-time features and functionality, tailored to provide the most value for that fan community. The newly launched DefJam.com uses Livefyre's Heat Index to visualize which of their artists are the most talked about on social networks, while George Strait used a 180 ft. LiveMediaWall to display real-time fan reactions as part of his Dallas press conference. Interscope.com features an innovative real-time format, where the content of the site is created from the social activity of its artists. Since launching with Livefyre, DefJam.com has increased website traffic by 30% and Interscope.com has increased the average time that each visitor spends on their site by 300%.
Angela Sanchez, Vice President, Direct Marketing, Universal Music Group Distribution explained, "UMG was looking for a technology partner who shares our vision for real-time community, conversation applications and social marketing. But we also wanted a partner who could grow with us as we continue to lead the music industry in digital innovation. Livefyre stood out as the market leader and we look forward to working with them to move the entire space forward."
Music is inherently social, and Livefyre's StreamHub platform enables UMG's labels and artists to easily aggregate, filter and integrate real-time content from social networks as part of the main community for that artist. UMG sites also use StreamHub to showcase trending artists, trending topics and trending users, surfacing real-time community movements so that for fans to know that's going on around them. Labels and artists are also running social contests on Twitter and Facebook and mirroring that engagement on their website, creating viral buzz on social networks while still retaining value for fans on the artist's site.
Jordan Kretchmer, founder and CEO of Livefyre stated, "We are thrilled to be working with one of the largest and most innovative music companies in the world. By working closely with more than 150 of their artist sites and labels, we're helping UMG connect fans with artists in an authentic, meaningful way. We're excited about UMG's ROI-driven approach to social marketing, and think this partnership will help continue the track record of digital innovation that UMG and their artists are known for."
About Livefyre
Livefyre helps companies engage consumers through a combination of real-time conversation, social curation and social advertising. With Livefyre's social CMS, brands can integrate real-time social content into their websites, mobile apps, advertisements and television broadcasts to increase viewer engagement, boost website traffic and drive revenue. As the fifth largest network online, Livefyre is powering real-time social experiences for over 400 leading brands including American Idol, AOL, Bravo, CBS, Conde Nast, Dow Jones/WSJ, FOX Sports, Mashable, NASCAR, Showtime, Sony Playstation, Sports Illustrated and The New York Times. Livefyre also acquired social storytelling platform Storify in September 2013.
Founded in 2009 with offices in San Francisco, New York and London, Livefyre was named one of the best places to work in the Bay Area by the San Francisco Business Times. For more information, visit http://www.livefyre.com or follow us Twitter and Instagram at @livefyre and @storify.
About Universal Music Group
Universal Music Group is the global music leader, with wholly owned operations in 60 territories. Its businesses also include Universal Music Publishing Group, one of the industry's premier music publishing operations worldwide.
Universal Music Group's labels include A&M/Octone, Angel, Astralwerks, Blue Note Records, Capitol Christian Music Group, Capitol Records, Capitol Records Nashville, Caroline, Decca, Def Jam Recordings, Deutsche Grammophon, Disa, Emarcy, EMI Records Nashville, Fonovisa, Geffen Records, Harvest, Interscope Records, Island Records, Machete Music, Manhattan, MCA Nashville, Mercury Nashville, Mercury Records, Motown Records, Polydor Records, Republic Records, Universal Music Latino, Verve Music Group, Virgin Records, Virgin EMI Records, as well as a multitude of record labels owned or distributed by its record company subsidiaries around the world. The Universal Music Group owns the most extensive catalogue of music in the industry, which includes the last 100 years of the world's most popular artists and their recordings. UMG's catalogue is marketed through two distinct divisions, Universal Music Enterprises (in the U.S.) and Universal Strategic Marketing (outside the U.S.). Universal Music Group also includes Global Digital Business, its new media and technologies division and Bravado, its merchandising company.
Universal Music Group is a fully owned subsidiary of Vivendi.