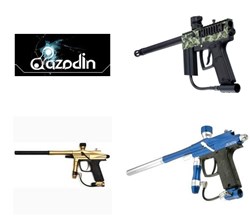 a great paintball gun
(PRWEB) October 08, 2013
Azodin Paintball Guns are featured at Action Center llc, home of Azodin is a newer paintball company that produces great starter paintball guns, at a fraction of the cost of other paintball companies. Their great quality, low cost paintball guns make it possible for someone with any budget to get into the sport of paintball. Stacked tube, open bolt, blow-back paintball markers are popular with many paintball players. Azodin Paintball guns are similar to the quality of Kingman Spyder paintball guns with a little more competitive pricing. Azodin Paintball guns all come with a full manufacturer warranty and are built to withstand the test of time. For players serious about getting into paintball, Azodin Paintball guns are a great place to start.
The Azodin Paintball Gun line is designed by distributed by previous Kingman spyder employees that have been in the paintball industry for many years. The Azodin Paintball Gun line ranges from great performing pump guns to the most advanced blow-back guns on the market. Buy an Azodin paintball gun today and eliminate your competition.
For more information on Azodin paintball guns, please visit our websites at http://www.utahpaintballsupply.com/azodin-paintball-guns/.