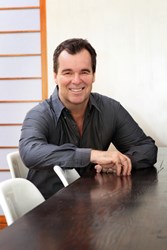 Home buyers should never let the high cost of Sydney real estate stop them from reaching for their dream of home ownership.
(PRWEB) October 08, 2013
Rick Otton, the man who brought creative real estate strategies to Australia, shares with Sydneysiders the secret in buying Sydney real estate, despite high property values right now.
RP Data and Rismark International index showed over 2 percent growth for residential property values in Sydney last month. Report authors added that home values in Australia's capital cities have risen 8.7 percent from June 2012 to September 2013, according to a Property Wire news report published on 1 October 2013.
"High Sydney property prices and the strict approval of new home loans are two of the main reasons why many first home buyers are having a hard time getting a house of their own, and this rapid increase of the already expensive property values in capital cities only makes the situation even worse," Mr. Otton said.
"For home buyers who are using the traditional process of buying and selling houses, this is the perfect time to throw in the towel because there's no way you can you can get Sydney real estate without making high deposit payment in this system," he shared in his latest interview.
"Those who use creative strategies, on the other hand, still have a lot of options left on their hands, despite the extreme prices of Sydney property right now. This is possible with the help of flexible payment terms which are in the heart of every creative strategy I teach," according to Mr. Otton.
Mr. Otton then showed how flexible payment terms in instalment contracts help home buyers get Sydney real estate without paying high amounts of deposit.
"Instead of paying the seller everything at once, instalment contracts simply allow a buyer to pay the value of a property for sale within a certain number of years, but in exchange for that he will have to pay the seller a little bit more of the property's original value," Mr. Otton said.
"The 10:10, a variation of instalment contracts, for example directs buyers to pay the seller 10 percent more, so that he can finish his payments within 10 years. This is a great deal for sellers, since they get more out of their property in exchange for a little patience," he discussed.
"Home buyers should never let the high cost of Sydney real estate stop them from reaching for their dream of home ownership. They should, instead, start applying creative solutions so they won't be faced with a dead end in any property problem the modern world throws at them," he explained further.
Rick Otton would be visiting Sydney on 12 October 2013 to talk about his creative real estate strategies free of charge.
Grab this chance to see Rick Otton in-action for the last time this 2013, so sign up now for a seat to his Sydney real estate event at http://www.howtobuyahouseforadollar.com/.
About Rick Otton
For over 23 years property millionaire Rick Otton has built an impressive real estate portfolio using innovative strategies that he has developed - strategies in which transactions are made without the need for traditional bank-type loans. He constantly refines his techniques as he buys and sells properties through his We Buy Houses business which operates in Australia, New Zealand and the UK.
A gifted speaker and educator, Mr Otton conducts regular one-day free seminars across Australia, which build on the the concepts he shares in his 2012 book 'How To Buy A House For A Dollar', voted by Money Magazine and Dymocks Book stores as one of the Top 10 Most Popular Finance Titles for 2013.
He regularly records and publishes iTunes podcasts via his channel Creative Real Estate.
His innovative low-risk, high-reward approach to Australian real estate investing has been featured in a variety of television programs and magazines, including Today Tonight, Hot Property and Australian Property Investor.
To register for one of Mr Otton's free Australian one day seminars visit HowToBuyAHouseForADollar.com.au or phone, in Australia, 1300 888 450.