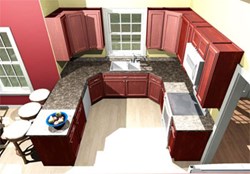 I worked as a general contractor in Connecticut for many years, transforming starter homes into dream homes. Now I help homeowners all over the world by giving them access to plans, project costs, and contractor management guides. - Voitek L. Klimczyk
Hartford, CT (PRWEB) October 08, 2013
SimplyAdditons.com, powered by an award-winning general contractor, is excited to reveal the updated Kitchen Ideas section of the website. Voitek L. Klimczyk, the general contractor behind Simply Additions, used his knowledge and expertise to create an extensive digital collection of kitchen extension plans and kitchen remodeling articles.
"I worked as a general contractor in Connecticut for many years, transforming starter homes into dream homes," Klimczyk said. "Now I help homeowners all over the world by giving them access to plans, project costs, and contractor management guides."
The Kitchen Ideas guide, available at no cost on SimplyAdditions.com, answers the common questions most homeowners have when considering a kitchen remodel. As an experienced general contractor, Klimczyk has repeatedly been asked the same questions: How much does the kitchen remodel cost? How long with the project take? What's included in the building cost?
Simply Addition's newly updated Kitchen Ideas guide answers all of these questions and more – it's the go-to resource for any homeowner researching a kitchen-related project.
The guide features articles such as, "Feng Shui Tips for New Kitchens," "Determining the Quality of Kitchen Cabinets," and "Easy Kitchen Makeover Tips," just to name a few.
Once homeowners have used the guide to complete their kitchen plans, the next step is getting a list of contractors and learning what questions to ask each contractor. SimplyAdditions.com offers articles to help with these processes, too.
"We're really the best resource out there for educating and empowering homeowners when it comes to home improvement projects," Klimczyk said.
The free Kitchen Ideas guide, along with myriad how-to articles and home addition plans, is available online at http://www.simplyadditions.com.
About SimplyAdditions
SimplyAdditions.com was established in 2006 by Voitek Lex Klimczyk as a website dedicated to educating homeowners on home improvement projects and home additions. SimplyAdditions was the first website to provide free home addition plans, allowing homeowners to plan for and shop for room additions online. Over the years, SimplyAdditons has won countless awards, including the Excellence in Business Consumer Education Award from the Connecticut Better Business Bureau, Excellence in Website Marketing, Superior Service Award and the Excellent Business Reputation Award, all awarded by the Better Business Bureau. Now SimplyAdditions.com has become the go-to online destination for homeowners seeking advice and guidance regarding home-related topics. Voitek Lex Klimczyk also creates How-to Videos on the ProvenHelper Channel found on YouTube and http://www.ProvenHelper.com.
To learn more, please visit http://www.simplyadditions.com.
Connect with Voitek on http://www.Twitter.com/ProvenHelper