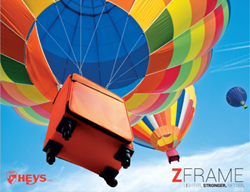 Our engineers designed the ZFrame collection with the customers' needs in mind.
Weston, FL (PRWEB) October 09, 2013
Heys USA, world leader in travel merchandise, is proud to introduce the latest in their luggage technology: The ZFrame Collection. ZFrame, designed by product engineers in the UK, is one of the strongest and lightest suitcases in the world. With a 7-year warranty, ZFrame luggage proves to be not only lightweight and capable of handling heavier weight, but also proves to be impact resistant, reliable and lives up to the trademark quality Heys USA is known for around the world.
"Heys USA understands the frustration people face when traveling with luggage that already weighs half as much as your airline allowance," said a representative for Heys USA. "Our engineers designed the ZFrame collection with the customers' needs in mind. We wanted to create the most durable and lightest luggage in the market."
The extremely strong structure of the ZFrame collection was engineered around a z-shape aluminum frame and composite fiber. This allows for a lighter structure while still keeping true to Heys USA promise of strength and durability. The ZFrame collection offers the benefit of being able to pack more without risking going over the allowed baggage weight.
Heys USA recognizes that function and good looks go hand in hand and does not skimp on either. The ZFrame collection pieces were designed with fashion in mind. The ZFrame Collection has a contemporary look and comes in a multitude of colors such as black, fuchsia, green, orange, red, turquoise. ZFrame's attractive and hardwearing fabrics enhance the iconic design of the pieces.
Comfort and maneuverability are also key factors into the creation of any Heys luggage collections and ZFrame is not the exception. Its angled handle and soft grip adds comfort and an easy maneuver, while the cases are top of the range, iconic pieces. ZFrame luggage comes in three sizes: small (22" x 12.5" x 7.8"), medium ( 26" x 16" x 8.8") large (30" x 19.5" x 9.8").
The ZFrame collection's official launch is the second week of October and with Fall just right around the corner, this is the perfect travel accessory to prepare for the holiday travels.
About HEYS USA
Heys USA has been at the forefront of the travel goods industry for 27 years, with technological innovations and inspirational fashion-forward designs. One of the world's most recognized designers and distributors of hardside luggage, Heys USA sells their products under a number of well-known brand names such as Heys USA, Travel Concepts, Crown Collection, and licensed brand names such as Disney, Britto, Fazzino and Nelson De La Nuez Collections.