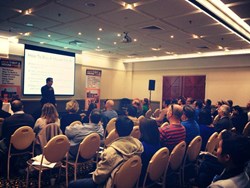 It is important banks do not respond to pressures to boost revenue by imprudently loosening their lending standards or making ill-considered moves into new markets.
(PRWEB) October 10, 2013
Real estate strategist, Rick Otton, has revealed he will show aspiring Australian property investors how to leverage alternative real estate strategies at a public Brisbane property event on October 13. Mr Otton announced the event in the wake of claims by the Reserve Bank that a flood of investment into the property market by self-managed superannuation fund (SMSF) trustees could accelerate house prices.
In a recent media report, the Reserve bank warned that an $80 billion plunge into the Australian property market by the self-managed superannuation fund sector was caused by uncharacteristically low interest rates and a relaxation in borrowing regulations within the super industry.
According to the Reserve Bank's September Financial Stability Review, the SMSF's share of Australia's $1.6 trillion super pool has doubled to 31 percent in the past decade, taking their direct property holdings to $80bn.
"One risk of the increase is that at least some of it is a new source of demand that could potentially exacerbate property price cycles," the Review said. "It is important banks do not respond to pressures to boost revenue by imprudently loosening their lending standards or making ill-considered moves into new markets."
But Mr. Otton said fears around the injection of funds into the property sector by SMSFs, while not to be taken lightly, should not dissuade everyday people from investing. That by using his strategies, any time was a good time to buy and sell real estate.
A real estate authority , Mr. Otton has helped tens of thousands of property investors achieve growth and positive cash flow with his innovative strategies will host a Brisbane property event on October 13, 2013.
"These one-day seminars are being offered at no charge, as part of my personal mission to mentor Australians on how to invest in property with no deposit, no banking finance, no stamp duty or experience in the field," Mr. Otton said.
"During the action-packed, full-throttle intensive, participants will learn the secret to buying almost any property for a dollar, how to profit from renovations without lifting a finger, the art of negotiations and why negatively geared properties are bleeding you dry," he said. "It is absolutely irrelevant which point of the cycle house prices are at. My strategies are timeless, won't bleed you dry and can be learnt by even a 12-year-old."
Mr. Otton said the Brisbane property seminar this month was part of a series of no-charge one-day intensives he was holding across Australia. Seating is strictly limited, and are usually filled weeks in advance.
For full details of the Brisbane real estate event, visit HowToBuyAHouseForADollar.com.au or phone in Australia 1300 888 450.
For general information about Mr. Otton, visit http://www.RickOtton.com.
About Rick Otton
For over 23 years property millionaire Rick Otton has built an impressive real estate portfolio using innovative strategies that he has developed - strategies in which transactions are made without the need for traditional bank-type loans. He constantly refines his techniques as he buys and sells properties through his We Buy Houses business which operates in Australia, New Zealand and the UK.
A gifted speaker and educator, Mr. Otton conducts regular one-day free seminars across Australia, which build on the the concepts he shares in his 2012 book 'How To Buy A House For A Dollar', voted by Money Magazine and Dymocks Book stores as one of the Top 10 Most Popular Finance Titles for 2013.
He regularly records and publishes iTunes podcasts via his channel Creative Real Estate.
His innovative low-risk, high-reward approach to Australian real estate investing has been featured in a variety of television programs and magazines, including Today Tonight, Hot Property and Australian Property Investor.
To register for one of Mr. Otton's free Australian one day seminars visit HowToBuyAHouseForADollar.com.au or phone, in Australia, 1300 888 450.