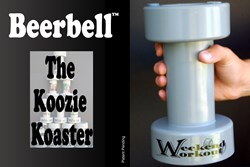 We are super excited to have a private investor so we can start selling Beerbells today.
Bozeman, MT (PRWEB) October 08, 2013
What is the hardest part about inventing a new product? Many will say coming up with the idea, making the prototype, finding the manufacturer, finding the money to make the product or finding the customers. While all of these can be challenging, finding the right source for money and customers has been Beerbell's, the one and only barbell beer koozie, biggest hurdles.
"Kickstarter helped us learn a lot about back end advertising. However, it (Kickstarter) looked way easier to find backers than it was. We felt we were advertising for Kickstarter more than the Beerbell," says vice president, Corey VanDyke. "But we are super excited to have a private investor so we can start selling Beerbells today. "
The Beerbell was originally funded by its owners, Scott and Corey VanDyke. It was agreed that Kickstarter would be the best platform to launch the Beerbell. Although the campaign didn't go as well as planned, there was a lot of positive feedback. After promoting the Beerbell on Facebook, an acquaintance contacted the VanDykes about a partnership. Along with the partnership came the decision to start selling Beerbells before the Kickstarter campaign ended. Click here to order a Beerbell today.
So how does a person choose which funding is best for them? Personal Investment is the best choice if the funds are present. Borrowing money is not recommended by Scott VanDyke, president at Beerbell. If crowdfunding is chosen, prepare, prepare, and prepare some more. Crowdfunding takes a lot of time. Finding private investors is Scott's best advice. Agree on investment amount, what the investor receives in the long run and make a contract.
About Beerbell
Scott VanDyke invented the Beerbell as a fun novelty item for tailgating, man caves, and team spirit. Along the way, the Beerbell was found to be fun yet functional. It keeps drinks colder, makes a great drink holder, and it floats. Scott is a dedicated family man, who prioritizes family events with his wife Corey, being with friends and exploring new ideas along the way.
For additional information about the Beerbell™, please contact:
Scott VanDyke
Creator and Founder
Email: beerbellscott(at)gmail(dot)com
Website: beerbell.com
Press Website: http://beerbell.info/Press.html