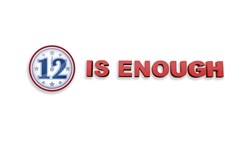 I refuse to believe that our career politicians are so wonderful they need more than 12 years in office." - Ian Clark
Los Angeles, CA (PRWEB) October 08, 2013
A new Super PAC, 12 is Enough, is fighting to improve Congress by imposing term limits and has now launched the third video in a Hollywood produced series. The video, which has already received more than 10, 000 views, addresses a non-partisan issue that is supported by 75% of Americans. Founder Ian Clark has pledged to see a term limits amendment pass.
According to Ian Clark, founder of 12 is Enough, "The reason for this shutdown is Congress has a 10% approval rating and a 90% reelection rate. The system is rigged. We are a country of 300+ million; there are many great men and women who could serve in Congress. I refuse to believe that our career politicians are so wonderful they need more than 12 years in office."
"We have a 22nd amendment that limits the president to two terms in office. 12 is Enough wants a 28th amendment to limit one person to no more than 12 years in Congress. Democracy means sharing power," says Clark.
12 is Enough has a simple goal, to make Congress better. They want to see the end to career politicians and give more Americans a chance at improving Government. 12 is Enough does not advocate for any political party, candidate or issue.
For more information on 12 is Enough or to view the video visit: http://youtu.be/Kqx1o_F-gxE.
About 12 is Enough:
12 is Enough has the goal of ending career politics in Washington with term limits. The group was founded by Ian Clark, a leader in the term limit movement. To learn more about the organization, please visit http://www.12isEnough.com for more information.