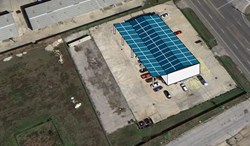 (PRWEB) October 08, 2013
Ensupra Solar LLC has been installing solar panels on commercial and residential buildings across the nation. Ensupra Solar will first reduce Viswa Lab's energy consumption by implementing conservation measures and making the building more energy efficient. The building's energy consumption pattern will be analyzed and higher efficiency equipments for heating and cooling will be installed. The solar panels will be installed on this commercial building roof.
Viswa Lab is expected to get close to Net Zero Energy with Ensupra Solar's power. The system will use grid tie inverters, which will interact with the local utility power grid. When the solar panels generate more power than the building needs, the excess power will feed the electrical grid, rotating the meter backwards.
Viswa Lab expects that the 100KW system will cut back a good portion of the building's consumption, and will allow excess power to feed back to the grid, whenever possible. The business is expected to earn 30% Federal Tax Solar Credit and the 5-Year Accelerated Deprecation provided for solar power by the federal government.
Ensupra Solar's team has installed more than one thousand residential and commercial solar power plants across the United States. The company has also installed solar plants in Singapore and India.