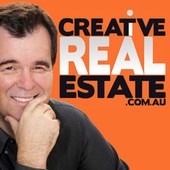 Greg and Erin soon discovered one of the property millionaire secrets: that people don't buy strategies, they buy people.
(PRWEB) October 29, 2013
In a new episode of the popular Creative Real Estate podcast, real estate educator Rick Otton has revealed how two of his property investment students received a new start using his strategies and in the process created a new life for their family.
In the podcast, Greg and Erin, a couple from the Gold Coast in Australia, describe how they were living a standard life with its standard stresses of trying to balance family and work. They reveal how, due to some unfortunate accidents, their situation changed, and they needed looking for something a little bit different. That's when they discovered Mr Otton's real estate investment strategies.
But, they reveal, it wasn't all plain sailing at the start. Their first deal was a steep learning curve for both of them.
"One of the first deals we did was very, very nerve racking, putting it altogether. We just worked together with the owners and Erin organised it…The owner just was not sure how it would work," said Greg.
However, using Mr Otton's advice, Greg and Erin soon discovered one of the property millionaire secrets: that people don't buy strategies, they buy people.
"I just dropped around to their place and we had a bit of a chat. Once they got to know me, they were able to fill me in on other things that were happening in their life and I was able to work with them, to understand that part of it. So, we worked out a way of putting it together so they could get rid of their headache. It was really good to be able to help them," said Greg.
Mr Otton's innovative approach to real estate investment focuses on solving problems for people, rather than simply buying and selling pieces of property. During the podcast, he reveals a number of tips for those starting out, such as this golden nugget about how to convince people to buy a house.
"I never walk inside the house. I just get them to walk inside the house and I stand outside and say, 'Come back and tell how what I'm offering here improves upon what you're doing now'. So when the people come back out they actually sell the house to themselves," said Mr Otton.
And while it was hard for them at the start, Greg and Erin explained how their new property investment business has changed their lives.
"I'm doing this full-time now, which is working out really well for us. The kids love having us home more often, and the stress relief has been incredible. I was a bit hesitant at first, but the more we got into it, the more I understood it, and it was just fantastic," said Greg.
Listen to the full free podcast on iTunes or at CreativeRealEstate.com.au.
About Rick Otton
For over 23 years property millionaire Rick Otton has built an impressive real estate portfolio using innovative strategies that he has developed - strategies in which transactions are made without the need for traditional bank-type loans. He constantly refines his techniques as he buys and sells properties through his We Buy Houses business which operates in Australia, New Zealand and the UK.
A gifted speaker and educator, Mr Otton conducts regular one-day free seminars across Australia, which build on the the concepts he shares in his 2012 book 'How To Buy A House For A Dollar', voted by Money Magazine and Dymocks Book stores as one of the Top 10 Most Popular Finance Titles for 2013.
He regularly records and publishes iTunes podcasts via his channel Creative Real Estate.
His innovative low-risk, high-reward approach to Australian real estate investing has been featured in a variety of television programs and magazines, including Today Tonight, Hot Property and Australian Property Investor.
To register for one of Mr Otton's free Australian one day seminars, visit HowToBuyAHouseForADollar.com.au or phone, in Australia, 1300 888 450