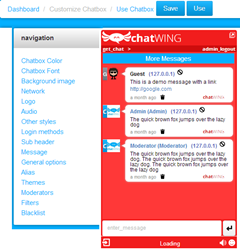 New York, NY (PRWEB) October 08, 2013
In order to attract more web users and clients, Chatwing Chat App Development Team is staging an online chatroom message contest. The company's developers will check out one chat box after another, hoping to find creative messages that will have strong impact to communities and forums. The messages can be mixed with pictures or can have various designs. The prize of the winners will be announced after a week or two.
"We have over fifty contests that will run for the remainder of this year. These contests will help more users learn about the advantage of web chat software," Says Shelly Miller, a researcher and blog designer for Chatwing. "Here at Chatwing, we believe in the power of experience. If our users manage to experience the main features of our chat app, they will know how to integrate it for their purposes."
Chatwing's developers are also planning to increase the exposure for the chatroom's Premium Features. During the early software tests, the company has found out that clients are keen on uploading their own logos in the chat software, and most of them have also requested for private avatars. Another popular Premium Feature is Chatwing's custom subheader.
Updates about the chatroom contests will be posted in Chatwing's Facebook page, blog series, and Twitter account. The developers will also ensure that the rewards for all participants will be greater than expected, yet within reason.
About Chatwing.com
Chatwing.com specializes in the new field of website chat. Over years, the Chatwing team has introduced live chat widget for hundreds and thousands of blogs. The Chatwing application bridges people from many parts of the world, creating global synergy through the Internet. The shout box can be installed in just seconds, and it can be used for varying purposes such as leisure and Internet marketing. It also allows a user to customize the size, color, and name of the widget.