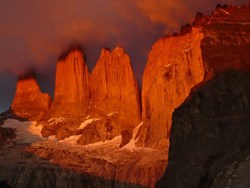 Travelers get to experience all the natural attractions, but we also provide many exciting adventure pursuits on this trip, giving travelers the opportunity to mix activity with leisure and culture. - Andre Kiwitz, CEO
(PRWEB) October 10, 2013
Highlights of Patagonia is a 13 day tour across Argentina and Chile, beginning in Buenos Aires and ending in Santiago. This exciting new tour will include walking on glaciers, taking in stunning landscapes, seeing/dancing the Tango, cross-country vehicle tours and tasting some of South America's finest wine in Chile's wine region. This destination is limited availability, just 3-4 months of the year - so we recommend you visit Patagonia while you can.
Here are some highlights from the itinerary:

Explore the art galleries and vibrant, colorful street fair of San Telmo, Buenos Aires
Marvel at the astonishing mausoleums of the magnificent Recoleta cemetery, the resting place of Eva Peron, Argentina's famous first lady, popularly known as Evita
Cruise on Argentina's largest lake for an up-close view of glaciers and the towering spires of the Andes
Walk upon the Perito Moreno Glacier in Los Glaciers National Park - a UNESCO World Heritage site
Explore the magnificent Torres del Paine National Park, home of towering granite monoliths and aqua-colored glacial lakes
Discover Santiago, Chile's vibrant capital city and convenient base from which to explore Chile's wine country and coastal attractions, Valparaiso and Vina del Mar
Be awe-inspired by the Canyon of the Mapocho River
Uncover the charm of Valparaiso - the 19th century port once considered the most beautiful city in the Pacific
Spend Christmas at a winery in Chile's premier wine growing region, where you can sample some of Chile's award-winning signature wines
…and many more. All Viventura tours are lead by South American guides who love the country and are highly knowledgeable about local culture.
Highlights of Patagonia takes the main attractions of these regions with many stunning natural landmarks, as well as a wide range of exciting activities to participate in. With meals included, private car service along with experienced tour and trekking guides for each element of the tour, participants will be well looked after all the way. After a day's activities, the hotel spas will offer welcome relief to tired muscles.
"This new classic Christmas Patagonia tour has all the hallmarks of a Viventura holiday. Travelers get to experience all the natural attractions, but we also provide many exciting adventure pursuits on this trip, giving travelers the opportunity to mix activity with leisure and culture." - Andre Kiwitz, CEO of Viventura.
Since 2001, Viventura has been providing high quality South America tours and travel experiences to more than 2000 travelers a year. Viventura tours typically cater to travelers looking for a mix of activity and sightseeing, covering the most popular tourist destinations as well as some of the lesser known attractions.
Go here for more information on Highlights of Patagonia and to book this tour, or contact us using the details below.
Viventura is committed to sustainable tourism and through its volunteer-based viSocial program, aims to help improve the quality of life for those living in South America. To find out more visit about Viventura's individual and group tours to South America, visit http://www.viventura.com. You can also contact Viventura by email or telephone:
Toll Free US & Canada 1-888-238-1602
UK (020) 3514 3192
Worldwide 1-813-579-3389