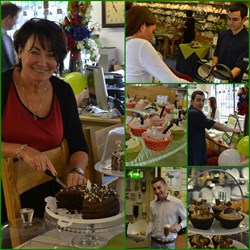 It was great to see so many people join us in our showroom
(PRWEB) October 08, 2013
Staff at the catering equipment supplier spent the weekend baking, icing and topping ahead of yesterday's coffee morning which saw Stephensons raise over £120 for Macmillan Cancer Support.
Staff and customers were invited into the showroom to buy tea, coffee, hot chocolate and cake.
Online Manager and event organiser Laura Shervin said: "I would like to thank all of our staff who spent the weekend baking for this great cause and everyone who helped out on the day.
"I would also like to extend my thanks to everyone who made a donation to Macmillan Cancer Support.
"It was great to see so many people join us in our showroom, we had a fantastic day and have so far raised over £120 with more donations expected today."
The array of colourful cakes, cupcakes and muffins were displayed on a range of cake stands and displays available from the Stephensons cash and carry.
Laura Shervin added: "We hope to continue to work closely with a number of charity organisations in the future and we have some great ideas for Movember so watch this space!"