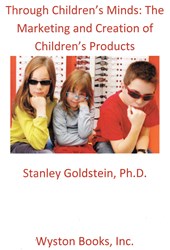 Children are far more sophisticated in their response to television and advertising than most people believe.
Warwick, New York (PRWEB) October 15, 2013
In his new book published by Wyston Books, Inc., "Through Children's Minds: The Marketing and Creation of Children's Products," Dr. Stanley Goldstein states that television's harmful effect on children has been greatly exaggerated. Rather than being a blank slate which slavishly incorporates behavior and attitudes, children relate to television with increasing sophistication and beliefs which mirror those of their parents.
Goldstein states that children early determine that the function of television is to entertain and not to instruct. They ignore programs which aren't "fun" and require a different orientation. News programs and documentaries, which demand cognitive effort, are not focused on unless the item is local or of particular interest and meaningful in their lives. The incidental violence in a TV series is quickly identified as fictional and considered a ritual of identification, playing a role similar to the hat which the hero always wears or the recurring phrase they use. Thus a brutal scene on television is related to differently than if the same scene were read, when it would be experienced emotionally.
Goldstein states that children orient to television as if it lacked consequence, an activity to be engaged in when they are bored in order to pass the time or as background for something else. They ignore most of its rapidly changing scenes, like a car driver who is traveling along a road which they have passed many times before.
Goldstein states that children possess increasing sophistication about advertising and, despite public concern about snacks being advertised, that television commercials have relatively little effect on children's nutrition, the major influences being their parents and family meals.
But children's thinking does differ profoundly from that of adults and to successfully market and create children's products requires knowledge of these differences, Goldstein states. In his book he details these differences, and explains how children relate to television and describes what they enjoy. These include commercials which children generally consider thirty second entertainment.
Goldstein states that though children's behavior can seem quirky and inexplicable, it possesses an inherent logic which can be understood by adults.
Dr. Stanley Goldstein is an author and psychologist who has appeared on national broadcasts including The Larry King Show and CourtTV. The Contents, Author's Note, and Foreword of Through Children's Minds are posted as a pdf at his website:http://www.drstanleygoldstein.com.
Pages: 206
Price: $15.99
ISBN: 978-0-9855847-6-4
Publication Date: October, 2013
Contents of Through Children's Minds: The Marketing and Creation of Children's Products:
Author's Note
Foreword: Who Should Read This Book
Introduction: How the Marketing to Children Began
Chapter 1: What Children Are Really Like
Chapter 2: The Behavior of the Child As Customer
Chapter 3: The Psychology of the Child As Customer
Chapter 4: Why Children Buy
Chapter 5: How Child Customers Differ from Adult Customers
Chapter 6: Maturing From Child to Adult Customer
Chapter 7: The Child As Influencer of Family Purchases
Chapter 8: The Global Children's Market
Chapter 9: Developmental Changes in Play
Chapter 10: Child Psychology and Children's Products
Chapter 11: The Art of Developing Children's Products
Chapter 12: The Uniqueness of Marketing to Children
Chapter 13: What You Must Know to Create New Marketing Ideas
Chapter 14: Marketing to Children Which Will Likely Fail
Chapter 15: Advertising to the Youth Market
Chapter 16: How Children Relate to Television
Chapter 17: What Makes Children's Television Commercials Effective?
Chapter 18: Is Television Advertising Still Critical in the Digital Age?
Chapter 19: Promotional Activities with Children
Chapter 20: Marketing, Children's Orientating, and Conducting Market Research
Author's Note: My thought of writing Through Children's Minds originated in workshops on telecommunications and marketing which I prepared under the auspices of Behavioral Information Services. The telecommunications workshop explained eighty percent of the telecommunications section in the Encyclopedia of Engineering in just one day. My goal was comparable for the Children's Marketing Workshop. This book requires no prior knowledge of advertising, marketing, or child psychology. Its only requirement is the willingness to abandon the inaccurate explanations of children's behavior which each person, naturally and intuitively, has created, the "naïve psychology" to which Fritz Heider, a leading figure in the field of social psychology, devoted a lifetime of study. Discarding cherished conclusions is difficult for these are the bedrock of our personality. Yet children easily accomplish this task as they develop. Should less be demanded of adults?
xxx