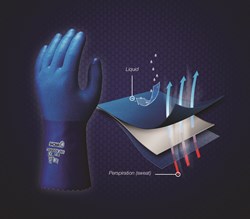 Steve Shale, Marketing Manager, Globus comments, "The textured finish on the fingers and across the knuckles enhances protection and provides excellent grip. 281 TEMRES also complies to the EN388 Standard with a 4121 result."
Manchester, UK (PRWEB UK) 10 October 2013
Globus, experts in hand protection solutions has announced the launch of 281 TEMRES from Showa Best; the first waterproof and breathable polyurethane protective safety glove.
281 TEMRES provides an impervious barrier against liquids and oils whilst remaining breathable, making it ideal for users working in wet, oily and greasy environments that need waterproof protection.
This unique feature is achieved thanks to its innovative nylon/polyurethane liner, inner foam membrane and micro-ventilated polyurethane coating. Water is kept out of the glove while warm air and moisture is allowed to escape. As a result, the hand is allowed to breathe, any accumulation of perspiration and bacteria inside the glove is negated and a more pleasant wearing experience results for the user. This in turn, greatly improves compliance and boosts safety by encouraging workers to wear hand protection for longer periods without compromising comfort.
In addition, users can be guaranteed excellent levels of dexterity and a tactile feel due to the thin abrasion-resistant coating and lightweight seamless liner.