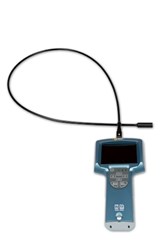 SnakeCam-12 ... is very easy to use and transport with you.
Minneapolis, MN (PRWEB) November 13, 2013
Medit Inc., one of North America's most recognized brands among online suppliers of NDT (non-destructive testing) equipment, is proud to announce their new product available for purchase online –Inspection Snake Camera SnakeCam-12.
The Camera features a 12mm diameter head, which houses 6 LED lights – 4 regular and 2 super intense LEDs, and an enhanced video camera with resolution of 450,000 pixels, allowing for exceptional illumination and high image quality in various inspection settings. The SnakeCam-12 is an ideal tool for exploring air ducts, vents, behind walls, vehicles, and other hard-to-reach areas and can also be used for basic pipe inspections as both the camera head and probes are IP 57 waterproof.
The snake camera is compatible with both flexible and flex-and-stay probes offering users better maneuverability and flexibility while inspecting curved or obstructed spaces.
Clear, vivid inspection images can then be played back on an integrated high-definition 3.5" LCD display right on site, transferred to a bigger monitor or saved to a SD card or a p/c for future reference. The Snake Cam-12, featuring a compact, portable design and operating on a rechargeable LI-polymer battery that offers up to 4 hours of uninterrupted inspections, can accompany the operator wherever and whenever inspections need to be performed, as it can easily fit in the trunk of a car, or a plane carry-on compartment.
"SnakeCam-12 does not only provide unparalleled image quality for such a small, portable hand-held device, it is also very easy to use and transport with you." – Terry Peristerakis, Medit Inc. Sales manager
About Medit Inc.
MEDIT Inc., located in North America, is one of the most reliable online suppliers of NDT equipment. The company has been successfully operating in medical, industrial, veterinary and consumer markets in over 40 countries for more than a decade and is fast becoming one of the largest players in the industry. Medit Inc. is committed to offering the latest and optimal solutions for professionals in remote visual inspections.