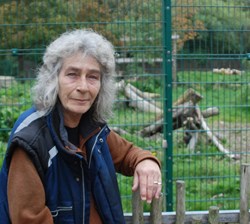 "My hair will grow back, but when tigers are gone they are gone forever, which will be terrible."
Blackpool (PRWEB UK) 9 October 2013
A Blackpool Zoo super fan is preparing to have her head shaved to raise money for her favourite animals.
Lynne Gorrie, who has very limited use of the right side of her body following a devastating brain haemorrhage 30 years ago when she was just 27, will do the deed on Halloween and donate all the money raised to 21st Century Tiger.
Her favourite two zoo animals are Zambar and Alyona, the critically endangered Amur Tigers, and Lynne spends all her free time at Blackpool Zoo taking amazing pictures of them.
Kirsty Mayor, who is a stylist at the Preston Jo and Cass Hair and Beauty Salon, has volunteered to shave Lynne's head after hearing about her years of fundraising work for 21st Century Tiger, which supports projects to help all species of tigers across the world.
Jude Rothwell, Marketing and PR Coordinator at Blackpool Zoo, said: "Lynne has raised thousands through numerous events in the past four years and her work for tigers is tireless.
"Blackpool Zoo wouldn't be the same without Lynne and all the keepers and staff know her well, she always has a smile and a wave and she is extremely knowledgeable about all our animals.
"As well as having her head shaved, Lynne has also offered to give people tips and advice about photography throughout the half term week and we are delighted to have her on board.
"I know that Kirsty is very much looking forward to meeting her and we can't wait to see Lynne's new look on Halloween."
Lynne, who is a member at Blackpool Zoo, added: "Tigers are such majestic creatures and I fell in love with Zambar when he arrived in 2010.
"Since then I have taken thousands of pictures of him and I was very excited when he was joined by a new mate, Alyona, last year.
"I have been studying their relationship ever since and I know that we are all hoping for the pitter patter of tiny stripy feet very soon.
"My hair will grow back, but when tigers are gone they are gone forever, which will be terrible.
"I have dedicated years to fundraising for tigers and will continue for as long as I can."
Lynne will have her head shaved at the Big Cat House at Blackpool Zoo on Halloween as part of a week-long Tiger extravaganza during the half term holidays.
There will be tiger trails, pumpkin workshops, daily tiger fence feeds, poetry and photography competitions, Halloween and tiger fancy dress, face painting, storytime sessions, conservations tables and much much more.
People are being invited to sponsor Lynne in her headshave by visiting her just giving page at http://www.justgiving.com/Jude-Rothwell.
Ends
Picture shows: Lynne Gorrie at the Big Cat House at Blackpool Zoo.
More information about Blackpool Zoo:
Blackpool Zoo celebrated its busiest year to date in 2012, which was also its 40th anniversary.
Blackpool Zoo is owned by Parques Reunidos, the second largest European leisure parks operator and a leading world-wide player. The zoo is home to over 1,500 mammals, birds, reptiles and invertebrates set amidst thirty-two acres of mature woodland and lakes.
The zoo's signature animals include elephants, giraffes, big cats, gorillas, orangutans, sea lions, primates, zebras and kangaroos. It is open every day of the year, apart from Christmas Day, from 10 a.m.
For further information, please contact:
Paula(at)icgonline(dot)co.uk or rachael(at)icgonline(dot)co.uk