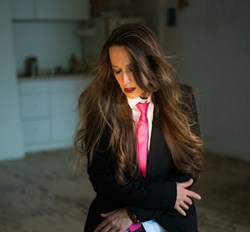 New York, New York (PRWEB) October 08, 2013
Filmed in a New York City loft, featuring actor Ara Woland, is independent recording artist Karen Nielsen's video, 'ODE'. A visual manifestation of the drum-infused, haunting and memorable single, the ODE video is artistic commentary on femininity, masculinity and vanity. The track, written by Karen, reflects on gender specific behaviors people are compelled to express through our commodity and image driven society.
The visual and narrative concept for the video was a collaborative evolution between Karen and Brazilian director, Vitor Freire. Their mission: to show how the traditional roles of men and women are often juxtaposed against internal desires leading to conflict, confusion and pain.
'ODE', the song, was written and performed by Karen Nielsen and mixed and mastered by Darren Morze. Their longstanding musical relationship has resulted in both of Karen's albums charting on the CMJ (RPM) charts top 30.
Fearlessly diving beneath the surface for all her works, Karen expresses those things we are afraid to confront. 'ODE' is no exception.