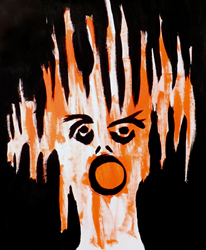 I work in a haunted studio. Well, it used to be haunted but that was before I brought the 'Bone People' to life.
New York, NY (PRWEB) October 10, 2013
Artzizzle, a digital resource for the contemporary art collector community, today announced a new Featured exhibition of portraits on paper by New York artist Nate Stack called the 'Bone People: Ghosts I lived with Part 1.' This exhibition celebrates the re-launch of the Artzizzle website with a new design and features like art news, artist and exhibition videos, collector tools such as On My Wall for the display of art, great artists, enhanced search and artwork for sale.
Artzizzle is celebrating the re-launch with artist Nate Stack's third solo exhibition entitled 'Bone People: Ghosts I lived with Part 1'. So named for a display of bony physical protrusions, the Bone People inhabited the artist's world hiding in the background, waiting to capture the light. Once noticed, these individuals wanted recognition, yet disappeared the moment their portrait was done. These works on paper are the first in a series of portraits to come. Exhibition VIDEO available for viewing.
About Artzizzle
Artzizzle offers art, advice and services to both novice and master art collectors around the globe. In addition, we offer members-only digital wall space for art collectors to build My Collection, and display it On My Wall. https://www.youtube.com/ArtzizzleTV
Only at artzizzle.com.
Follow Artzizzle: @artzizzle.
© 2013 EDB MEDIA, INC.