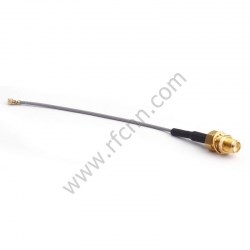 (PRWEB) October 08, 2013
RFcnn.com, a developer of various RF connector products, desktops and portable platforms, announced today its SMA cable assembly promotion, and that the company will continue to focus on providing high quality products to the world's clients.
Now all customers can enjoy a discount on any order of SMA cable assembly, up to 30% off. According to the CEO of the company, the promotion is valid until Oct. 25, 2013. RFcnn.com is a well-known brand in the industry; its products are always offered at discounted prices to satisfy customers' requirements on a large scale.
"We are happy to launch the promotion. With the development of today's creative projects, more and more high quality SMA cable assemblies are demanded in the global market. We take pride in offering premium quality products for our clients worldwide. At our company, every customer is treated like a VIP. Don't worry about you are a small buyer please. Visit our website and check the SMA cable assemblies at our website," says, the CEO of the company.
RFcnn.com is also planning a series of products at some trade shows and conferences over the coming months. N RF connectors, SMB RF connectors, Mini Balun IDC connectors, SMC RF connectors and more are also offered with big discounts at RFcnn.com, which can be one of the best suppliers of RF connector solutions for many small to medium size businesses.
About RFcnn.com
RFcnn.com is an online outlet of Zhenjiang Fourstar Electronics Co. LTD, which is a China based company that aims to provide customers high quality RF connectors at the lowest possible prices. Customers can try the company's products through sample orders with a long-term contract. Most the customers will come back soon after their first deals.
More details about the company's high quality RF connectors can be found at http://www.rfcnn.com/SMA-Female-TO-U-FL-Cable-Assembly-Jumper-105.html