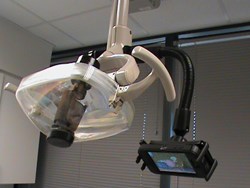 Atlanta, GA (PRWEB) October 09, 2013
Highpoint Innovators, Inc. is pleased to introduce The Dentaltainer™, a flexible, mobile entertainment device holder customized for Dentists and Orthodontists. The Dentaltainer™ is specifically designed to attach to dental and orthodontic lights, allowing patients to view their own unique programming on tablets and smartphones, relieving anxiety and dental phobia.
The Dentaltainer™ is flexible, durable, and affordable and is case-friendly. The universal device holder adjusts to fit any mobile device. The device is perfect for patient viewing and treatment option presentations. Patients can now look forward to positive and relaxing dental and orthodontist visits. Dentists and Orthodontists can now save thousands of dollars on expensive entertainment systems.
The Dentaltainer™ mobile device holder was conceptualized by Chip Hullender, after many dental visits with his special needs son, holding his smart phone over the dentist and hygienist's shoulder. "The key innovation is the device's exclusive lightweight carbon plastic design which allows it to be attached to existing exam lights." said Chip Hullender, CEO, High Point Innovators, Inc. "The Dentaltainer™ mobile device holder is clean, neat and easy to use. It's dental and patient friendly and a great distraction from their dental treatment. It's a good product!" said Dr. Thad Baird, Baird and Baird Family Dentistry.
The Dentaltainer™ device holder provides a significant return on investment. For less than the cost of one LCD, Dentists and Orthodontists can put one in every chair. The Dentaltainer™ is available now for $39.95 at http://www.TheDentaltainer.com. Follow us on Facebook, Twitter, You Tube and LinkedIn.
About Highpoint Innovators, Inc: Highpoint Innovators is engaged in developing innovative products for mobile device units. Its products are designed for dentists, orthodontists, restaurants, mechanics and all smartphone and tablet users.
For more information, please contact:
Chip Hullender
Highpoint Innovators, Inc.
678-492-6324
chip(at)thedentaltainer(dot)com