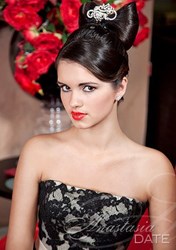 (PRWEB) October 08, 2013
Anastasia Date is continuing to grow in popularity. The company announced recently that it is enjoying record membership figures. Last month's membership figures were the highest ever recorded by the company. The good news comes just weeks after the company announced growth in download figures for its popular mobile app which is available from Google Play.
There is little doubt that this news proves AnastasiaDate is truly one of the most popular international dating websites available online today. The company has positioned itself as one of most exclusive dating services, and the growing membership figures suggest this trend will continue into the future. With over four million members, who come from all over the world, the company is well placed to maintain its leading position.
The company reported that it is delighted to see such significant growth. For over twenty years, the company has been helping successful and attractive men and women to connect with each other across the miles. AnastasiaDate is known for its exclusive services, and the high quality dating experience each member is given. Breaking down international barriers is what the company is good at. By offering a premium service, and connecting people from different countries, AnastasiaDate makes the miles disappear and helps love to blossom all over the globe.
Members continually praise the company for its excellent and highly exclusive services. The company uses the latest developments in online dating technology to create a state of the art website for members to enjoy. On AnastasiaDate, they can relax and enjoy meeting beautiful and charming mates in the privacy of their own homes. Browsing profiles, sending personal messages and spending time in live video chat are all extremely popular features.
Recently, the company has seen a huge increase in memberships from American and European gentlemen who are keen to connect with the truly beautiful ladies who are available on the website. The company is certain the high caliber of members is the reason why it has become so popular. AnastasiaDate is attracting some of the world's most successful professionals. Entrepreneurs, business people, and professionals from every industry are flocking to enjoy every aspect of membership on the website.
The ladies are also highly successful individuals. Many of them are successful media professionals, models, actresses and a large number of them run their own businesses too.
The combination of high caliber members, and top class service is making AnastasiaDate irresistible to thousands of new members who are rushing to join.
This is what makes AnastasiaDate so unique. The combination of the latest advances in technology with the ability to access some of the most attractive people in the world makes it one of the most popular choices for online dating. People love the chance to meet a new mate from international shores. It adds a touch of the exotic to their love lives, and gives them someone different and interesting to connect with.
As the number of members continues to increase, there is no doubt AnastasiaDate.com will continue to be a top destination for people who are looking for companionship and romance with a wonderful new international mate.
About AnastasiaDate
AnastasiaDate is the leading international dating service that facilitates exciting and romantic companionship with beautiful and interesting women from all over the world. Founded in 1993 by a Russian-American couple, AnastasiaDate now has over 4 million international users and attracts more than 10 million online visits monthly. Additionally, over 1.5 million conversations are exchanged onsite daily. AnastasiaDate is committed to member safety, customer satisfaction and the ongoing pursuit of innovation.
Headquartered in Moscow and New York with additional representation in every country it touches, AnastasiaDate provides a high level of customer service to a worldwide clientele. AnastasiaDate users are able to communicate across a variety of top-notch multimedia platforms, including video chat and a mobile app for Android devices available in the Google Play store.