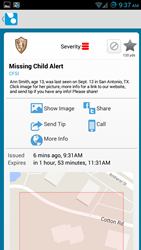 Over 2000 children go missing each day... I strongly encourage people to download this free app. It could help save lives.
Nashua, New Hampshire (PRWEB) October 08, 2013
Beginning today, CFSI will be using ping4alerts!, a mobile communications platform to instantly notify a national audience of missing children.
CFSI was founded by highly decorated combat wounded veteran, Chuck Foreman, who saw a need that he felt wasn't being fully addressed.
"This is great technology," said Foreman. "In a mobile society, having the power to send missing person alerts directly to a person's phone can greatly help our cause. Over 2000 children go missing each day. They are in danger of human trafficking or worse. I strongly encourage people to download this free app. It will help save lives."
Citizens who wish to help CFSI can download the ping4alerts! app by simply visiting the Google Play or ITunes store.
CFSI will be the first organization in Texas to deploy the new ping4alerts! system. By donating this innovative technology, Ping4 Inc. will aid CFSI in its mission of recovering the hundreds of children that go missing each day by immediately alerting citizens.
"Doing good for the world is good for business. As a corporation, you have a greater responsibility to help others gain," said Jim Bender, CEO of Ping4 Inc. "Ping4alerts! transforms and revolutionizes the way children are found using highly-localized, multimedia alerts."
Ping4alerts! uses the latest location-based technology to deliver notifications to citizens within a highly-localized area. Using the proprietary platform, CFSI can draw a shape on a map as small as a building or as large as the state to push an emergency notification to the space inside the geo-fence. Ping4alerts! notifications are sent anonymously based on a devices location and do not require any personally identifiable information (phone numbers, email address). Additionally, citizens who receive the alert can further assist CFSI in finding missing children using the anonymous tip feature to send alerting authorities any known information.
About Ping4 Inc.
Ping 4 Inc., is a Nashua, New Hampshire software company utilizing the latest in push technology to deliver real—time, location—based, multimedia alerts to any iOS or Android mobile device. Public safety agencies license the platform to keep citizens informed of extreme weather events and other fast—moving situations. Consumers are not required to give up any personally identifiable information. User identity is 100% protected. More information is available at http://www.ping4.com.
About CFSI for Missing Children
The Center for Search and Investigation for missing children is an organization founded by Chuck Foreman, a wounded Special Operation veteran. CFSI is comprised of only volunteers who donate their time to raise awareness of the growing number of children that go missing and to prevent children from abduction, human trafficking and exploitation. When a child is lost or goes missing, CFSI organizes, assembles and reacts to locate them safely. For more information, visit http://www.cfsimissing.com.
Contact: Kyla Natali, Public Relations Manager
Email: Kyla.Natali(at)Ping4(dot)com
Phone: (603) 548-8533