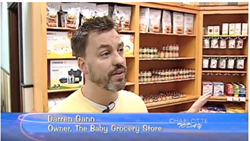 A Philosophy-First Company
Charlotte, NC (PRWEB) October 08, 2013
Davina "Dayvee" Sutton, from the popular Charlotte, NC morning TV show Charlotte Today, visited The Baby Grocery Store and was able to speak with Founder and Owner Darren Gann about their amazing array of eco-friendly baby and kid products. The segment, which aired September 18, 2013, focused on Gann's vision and why he chose to carry certain products.
Sutton toured the store with Gann while learning about special store offers like price matching, classes, in store demos, and even the complimentary beverages while shopping. During the show, The Baby Grocery Store gave out $300 in gift cards to 30 Charlotte Today fans.
Charlotte Today is a WCNC NewsChannel 36 program that airs weekdays 11 a.m.- noon. The lifestyle/entertainment show features local stories showcasing health, fitness, cooking, finance, and more.
You can watch the segment here: [http://www.wcnc.com/charlotte-today/The-Baby-Grocery-Store-224253091.html
About The Baby Grocery Store
The Baby Grocery Store has created a unique all-inclusive shopping experience that is revolutionizing how parents shop for baby essentials. They stock all-natural, organic and non-GMO food products that satisfy even the pickiest eaters. They also carry everyday necessities like cloth and plant-based diapers, biodegradable wipes, personal care items, carriers and slings, toys, and household items that come from companies that care about minimizing their environmental impact and maximizing your child's health and safety. For online shopping, store events, resources and more, visit http://www.thebabygrocerystore.com.