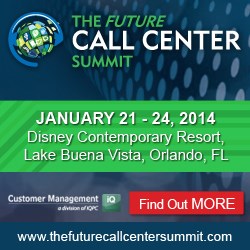 Orlando, FL (PRWEB) October 15, 2013
Customer Management IQ introduced the complete agenda for The Future Call Center Summit supported by leading customer-centric organizations such as Disney, Arby's Restaurant Group, Best Buy, Cisco Systems, Travelzoo, HP, Marriott, Newell Rubbermaid and more. Executives from these organizations will be discussing the future of contact centers in Orlando from January 21-24, 2014.
Early confirmed sponsors included Interactive Intelligence, Uptivity, Levementum, MicroAutomation, IQ Services, Harte-Hanks, NCR Corporation, SenCommunications, and Nobelbiz.
An impressive list of top contact center solution providers have already confirmed their involvement at the Summit. Over 60% of the exhibit hall filled up in a matter of weeks following the release of the complete agenda.
Newly confirmed sponsors include Five9, Plantronics, inContact, Fonolo, Genesys, BenchmarkPortal, Twilio, TRUSTID, Oracle, ADDASOUND, DSR Partners, Jabra, StellarBPO, Kaplan, and SAP.
In addition to an exhibit hall packed with the latest contact center technologies, part of the exhibit hall is reserved for the Innovation Theater, a new addition for 2014 to elevate the exhibit hall experience for attendees. The Innovation Theater will be a draw for exhibit hall guests with presentations delivered by Pitney Bowes, Loyalty One and a handful of sponsors creating an intimate environment for innovative discussions.
With a robust agenda featuring top organizations in customer care and an action-packed exhibit hall full of intelligent solutions, The Future Call Center Summit provides the right balance for those looking to elevate their customer service strategies.
To register for The Future Call Center Summit or to inquire about remaining sponsorship opportunities, visit the event homepage or call 1-800-882-8684.