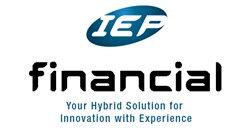 TAMPA, FL
October 8, 2013 (PRWEB) October 08, 2013 -- IEP Financial, an innovative hybrid broker/dealer and Registered Investment Advisor solution for independent financial advisors, announced today that it was selected by CLA USA Marketing, LLC—an independent financial firm—as its broker/dealer for their dually registered Insurance Agents and Financial Advisors.
A cadre of industry veterans, including Keith Gregg, John Simmers, Scott Sherwood, Dwayne Calton, Randy Ciccati and Ramu Singh, launched IEP Financial in August 2012. Since then, the firm positioned itself to become the hybrid broker/dealer and Registered Investment Advisor platform for innovative independent financial advisors, small-to mid-sized broker/dealers and Registered Investment Advisory firms.
Headquartered in Frisco, TX, CLA USA Marketing provides, through its network of insurance representatives throughout the country, core financial services and assisting clients with financial issues ranging from capital growth to retirement income preservation. The firm and its affiliated companies, CLA USA, Inc. and CLA USA Advisory Group, LLC, operate in 38 U.S. states.
Keith Gregg, IEP Financial's CEO, explained that his firm's main attractor for Financial Advisors, Registered Investment Advisor and broker/dealer firms is it's impending launch of iBITS™ (Innovative Business Intelligence Technology Solutions)—IEP Financials' shared services utility and technology platform, which is bound to revolutionize the independent broker/dealer and the Investment Advisory community.
"We are excited and honored that that CLA USA Marketing selected IEP Financial as its hybrid broker/dealer and Registered Investment Advisor," stated Gregg.
Michael Brandone, CLA USA Marketing Vice President of Independent Brokerage, explained that, as growth trajectory advances, CLA is committed to increase its number of insurance agents and registered representatives. In order to facilitate and extract maximum value from this growth, CLA USA Marketing decided to select a broker/dealer that would be highly instrumental in supporting such growth through innovation, technology and shared services.
"Our selection of IEP Financial was the result of a long and meticulous search. We identified in Keith and IEP an invaluable and innovative partner genuinely dedicated to the independent advisory space," Brandone said. "The firm's comprehensive expertise, flexibility, talent and client-centric culture have been among the key reasons that supported our strategic decision to join their hybrid platform. Undoubtedly, this partnership will empower CLA USA Marketing to further strengthen its brand and continue to build on its success."
About IEP Financial
Based in Tampa, FL, IEP Financial is a Division of Calton & Associates, Inc. member of FINRA and SIPC. It offers a Hybrid Broker Dealer and Registered Investment Advisor platform to successful Advisors who value their independence and want to provide clear, objective, unbiased advice, products, and services to their clients. Additional information can be found at http://www.iepfinancial.com
About CLA Marketing, LLC
Headquartered in Frisco, TX, CLA USA Marketing provides, through its network of insurance representatives throughout the country, core financial services and assisting clients with financial issues ranging from capital growth to retirement income preservation. The firm and its affiliated companies, CLA USA, Inc. and CLA USA Advisory Group, LLC, operate in 38 U.S. states. Additional information can be found at http://www.clausamarketing.com
###
Disclaimer of Warranty and Limitation and Liability.*IEP Financial is a division of Calton & Associates, Inc., Member FINRA, SIPC. Calton & Associates Inc. does not warranty the accuracy of the materials provided herein, either expressly or impliedly, for any particular purpose and expressly disclaims any warranties of merchantability or fitness for a particular purpose. In no event will Calton & Associates, Inc. its affiliates or any such parties will be liable to you for any direct, special, indirect, consequential, incidental damages or any other damages of any kind even if Calton & Associates, Inc. or any other party has been advised of the possibility thereof. © 2012 All Rights Reserved. IEP Financial, 14497 North Dale Mabry Hwy, Suite 215, Tampa, Florida 33618