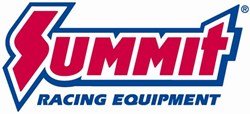 Tallmadge, OH (PRWEB) October 09, 2013
Percy's Vibe-Lock bolts keep headers where they belong. The locking bolts have a patented locking washer and clip to lock them in place--no problems with backing out due to vibration.
Installation is easy—thread in the bolts, gently tightening the set screws to unlock, torque the bolts to spec, then back off the set screws to relock. The bolts will not loosen due to vibration or heat. To remove the bolts, simply tighten the set screws to unlock.
The Percy's Vibe-Lock header bolts are available in black-oxide steel or polished stainless steel. They can be used over and over without losing their locking ability.
APPLICATIONS
Most popular Chevy, Ford, Chrysler, Buick, Olds, Pontiac, and AMC V8s.
Summit Racing Equipment
http://www.SummitRacing.com
1-800-230-3030