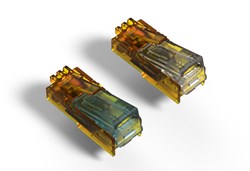 (PRWEB UK) 9 October 2013
TE Connectivity (TE), one of the world's market leaders in connectivity solutions, today announced the release of the Pivot Power RJ45 connector. The pivot power RJ45 is a new, low voltage power connector that commons RJ45 contacts to provide two power connections through an industry standard RJ45 interface.
The pivot power RJ45 connector commons positions 1,3,5 and 7 to one 18AWG wire and 2,4,6 and 8 to another 18AWG wire with simple, fast pivoting termination of both wires at once making it ideal for lighting and fire & security applications. Designed for plenum installation in lighting applications or security systems, the pivot power RJ45 can be installed in air handling spaces when used with suitably rated wire. It features molded in polarity and strip length guides to aid installers and ensure proper and repeatable installation. An integral cable strain relief secures and retains the cable jacket providing mechanical isolation of the electrical termination. Available in two color-coded versions for European and North American wire styles, the pivot power RJ45 is UL and cUL listed to allow field termination.
For more product information, please contact your local TE Product Information Center or visit http://www.te.com.
About TE Connectivity
TE Connectivity is a global, $13 billion company that designs and manufactures approximately 500,000 products that connect and protect the flow of power and data inside the products that touch every aspect of our lives. Our nearly 90,000 employees partner with customers in virtually every industry—from consumer electronics, energy and healthcare, to automotive, aerospace and communication networks—enabling smarter, faster, better technologies to connect products to possibilities. More information on TE Connectivity can be found at http://www.te.com/.
TE Connectivity and TE connectivity (logo) are trademarks. Other logos, product and/or company names might be trademarks of their respective owners.