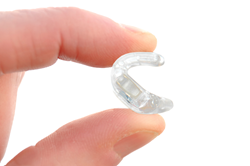 "A hearing aid should not cost five times more than an iPad," says Fred Writt, CEO of Ping Daddy Labs.
Minneapolis, MN (PRWEB) October 09, 2013
This design patent award is one of a suite of applied for patents that consist of claims across multiple products and industries. Blue-Gear engineers have designed and produced prototype products for hearing loss, noise protection, audio headphones and Bluetooth products using this patented design.
An independent testing company determined the earpiece will provide a comfortable and secure fit for over 92% of the population.
Blue Gear has executed a direct to consumer distribution Agreement with Ping Response, Inc of Westbrook, Maine. They are crowd funding the launch of Ping Daddy, an out of the box, over the counter hearing solution with a campaign on Indiegogo. Hearing loss is reaching epidemic levels and is the third leading chronic health condition facing older adults. The Ping Daddy is classified as a PSAP (Personal Sound Amplification Product) by the FDA. They are commonly referred to as "reading glasses for the ears" and cost a fraction of the amount of conventional hearing aids.
Fred Writt, CEO of Ping Response has suffered from hearing loss for over twenty years. According to Writt: "A hearing aid should not cost five times more than an iPad." Ping Response plans to market a suite of hearing solutions from PSAPs to programmable hearing aids using Blue-Gear's patented ear piece. "The online direct to consumer distribution of hearing aids will create an affordable alternative to the traditional brick and mortar retail dispensaries," explains Writt.