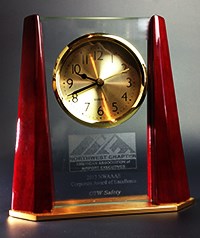 Thanks to the input from all the professionals that are involved in NWAAAE OTW Safety has been able to stay on the cutting edge of safety.
Salt Lake City, UT (PRWEB) October 10, 2013
OTW Safety, the creators of the low profile water filled airport barricade and innovators in safety and security products, announced today that it has won the Northwest American Association of Airport Executives (NWAAAE) Corporate Award of Excellence. The NWAAAE Corporate Award of Excellence is given to companies whose professionalism and recent contributions to the Association and the airport industry have made a significant difference in fostering aviation.
OTW Safety has been designing, testing and manufacturing plastic barricade products since 1993. "The ideas for these designs were prompted by customers needing products that did not exist or were not right for their application. Thanks to the input from all the professionals that are involved in NWAAAE OTW Safety has been able to stay on the cutting edge of safety. Without this input from everyone that is involved in NWAAAE we would not be where we are today. Thank you very much for this award."