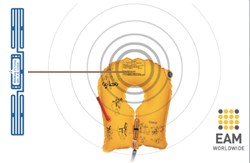 FLYtag fiber dual allows crews to track presence and expiration of life vests and other inflatable parts in a matter of minutes instead of hours.
Atlanta, Georgia, USA (PRWEB) October 09, 2013
MAINtag, leading provider of aerospace flyable RFID chips and tags, is providing EAM Worldwide and its EAM RFID Solutions division with FLYtag® fiber dual RFID tags for life vests. EAM's first delivery of life vests with dual-memory tags is for Airbus A320 aircraft owned by European airline easyJet.
Airbus announced in 2012 that they will require all life vest suppliers to comply with the dual-memory tag criteria outlined by the ATA Spec 2000 committee. This committee establishes the data format standard for RFID flyable tags. EAM Worldwide, a featured vest supplier for Airbus, is the first company to fulfil this requirement. FLYtag fiber dual covers both single- and dual-record formats and embeds ATA Spec 2000-compliant aerospace silicon chip.
"The single-record format efficiently pulls relevant electronic data from a vest, such as manufacturer CAGE code, serial number, part number, date of manufacture and expiration date. Dual-record tags extend that capacity to data renewal along the life cycle of the part. FLYtag fiber dual allows crews to track presence and expiration of life vests and other inflatable parts in a matter of minutes instead of hours," explained Alexis Beurdeley, Vice President of MAINtag, Inc. in Atlanta, GA, who sealed the deal with EAM in Miami, FL.
"EAM RFID Solutions and MAINtag have been working closely in the design of fully compliant tags for time-efficient and cost effective identification of life vests and other EAM Worldwide flyable equipment," said Nervin Obando, Manager of EAM RFID Solutions. "We also use the tags to enhance our tracking efficiency. The tags are read and linked to our internal RFID software, allowing us to track vests in all stages of production," added Eloy Leal, EAM Worldwide director of operations and engineering.
MAINtag's family of dual-memory tags incorporates the ATA Spec 2000 silicon FLYchip®. With identity rates up to 200 tags per second at a range of 10-15 feet depending on the software being used, FLYchip outsells and outperforms other chips in the aerospace market. FLYchip is available in formats of 2Kbits (dual/single record) and 64 Kbits (multi-record).
For more information about MAINtag and its RFID solutions, download the Solution Book at http://www.maintag.com.
About MAINtag, Inc.
MAINtag, Inc. in Atlanta, Georgia services the North and South American aerospace markets. MAINtag group, founded in 2004 for maintenance tagging, is now the world leader in flyable RFID tags onboard aircraft, providing solutions to more than 50 European and U.S. OEMs for the A350XWB. Through its FLYtag® brand, MAINtag maintains its commitment to stay at the leading edge of R&D. MAINtag provides the aerospace and defense industries with reliable and secure products and services that support identification and traceability of flyable parts, ground service equipment and tooling in order to improve logistics, asset tracking and maintenance processes. MAINtag is AS9100 certified.
About EAM Worldwide and EAM RFID Solutions
EAM Worldwide has delivered high-quality safety equipment and technology to help ensure the survival and well-being of each passenger and crew member for over 60 years. Products include life rafts, life vests, evacuation slides, survival and safety kits. EAM Worldwide is headquartered in Miami, Florida with a global sales office in Dubai, UAE. EAM RFID Solutions works with clients to implement complete RFID systems used for aircraft cabin management, inventory management control, anti-theft measures and confirmation of necessary routine maintenance and inspection.