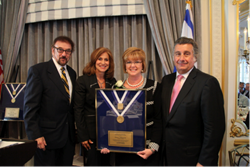 HORSHAM, Pa. (PRWEB) October 09, 2013
The Penn Mutual Life Insurance Company, a more than 166-year-old company, is pleased to announce Eileen McDonnell, Chairman, President and Chief Executive Officer, received the 2013 Neil D. Levin Memorial Award during the annual luncheon for the State of Israel Bonds' Insurance Division on October 2 in New York, N.Y.
The Neil D. Levin Memorial Award is named for former New York state insurance superintendent Neil Levin, who lost his life in the attacks on the World Trade Center on September 11th. Elizabeth Heck, President and Chief Operating Officer of the Greater New York Mutual Life Insurance Company, was an award co-honoree.
"Israel stands as a robust nation, with a democracy and economy that contributes globally," said McDonnell. "Penn Mutual's support of Israel Bonds aligns with the company's commitment to ensuring a bright future for generations to come. I am honored to have received this award."
Established in 1951, Israel Bonds is a broker-dealer that underwrites securities issued by the State of Israel in the United States.
About The Penn Mutual Life Insurance Company
Since its founding in 1847, Penn Mutual has been driven by its noble purpose to create a world of possibilities. At the heart of this purpose is the belief that purchasing life insurance is the most protective, responsible and rewarding action a person can take, and is central to a sound financial plan. The company is committed to helping families unlock life's possibilities through life insurance and annuity solutions. This is accomplished through a national network of more than 5,000 financial professionals, who help clients make great things possible. Penn Mutual supports its field representatives with brokerage services through Hornor, Townsend & Kent, Inc. Registered Investment Advisor and wholly owned subsidiary. Member FINRA/SIPC. Visit Penn Mutual on the Internet at http://www.pennmutual.com/.
©2013 The Penn Mutual Life Insurance Company, 600 Dresher Road, Horsham, PA 19044
A3YK-1008-02E2
###