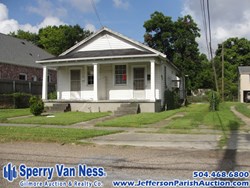 Jefferson, LA (PRWEB) October 09, 2013
Jefferson Parish has commissioned Sperry Van Ness/Gilmore Auction & Realty to conduct an auction of 160+/- properties adjudicated to the Parish on Saturday, September 2nd, 10:00 a.m. The public auction will be held in the Parish Council Chambers at the Yenni Building, 1221 Elmwood Park Blvd., Jefferson, Louisiana.
The properties are located throughout Jefferson Parish including Metairie, Kenner, Grand Isle, Jefferson, River Ridge, Lafitte, Marrero, Harvey, Terrytown, Avondale, Bridge City and Waggaman. Homes, commercial properties, residential lots and commercial lots will be offered.
Each property will be sold to the highest bidder with bids starting as low as $1,000. Bidders should be prepared to register with $500 in certified funds for each property they plan to bid on. A deposit of 10% is required on each purchase with a closing scheduled within 30 days. Insurable title will be provided on each property.
Property information, photos, FAQ's and additional terms can be reviewed at http://www.JeffersonParishAuction.com or by calling SVN/Gilmore Auction at 504-468-6800.
Press contacts: David E. Gilmore – David.Gilmore(at)svn(dot)com
Francis J. Braud – Braudf(at)svn(dot)com
504-468-6800