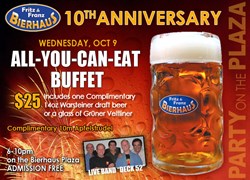 Coral Gables, FL (PRWEB) October 08, 2013
Branches is excited to be the charity of choice for the Fritz & Franz Bierhaus' 2013 Oktoberfest which runs from October 3rd-13th.
Join in the fun for the Fritz & Franz Bierhaus' 10th Anniversary celebration on Wednesday, October 9th from 6 p.m. - 10 p.m. $25 includes one complimentary 14oz Warsteiner draft beer or a glass of Gruener Veltliner. Free Apfelstrudel at 10 p.m. Admission is free.
Raffle tickets will also be sold for $5 per ticket or $20 for 5 tickets. Raffle prizes include a $100 gift certificate to the Fritz & Franz Bierhaus, a two-night stay at the Riverside Hotel on Las Olas and the grand prize, a 7-night cruise in an ocean view stateroom for 2 people on Carnival Cruise Lines. The drawing will take place on October 13th and 100% of the proceeds will benefit Branches.
For further details about the 2013 Oktoberfest, please visit http://www.bierhaus.cc.
_______________________________________________________________________________
About Branches
For 40 years, Branches (formerly South Florida Urban Ministries) has made a positive impact in the community by delivering on its mission to serve, educate and inspire people through student, family and financial stability services. Branches provides long-term, holistic services for motivated individuals and families. We help people grow deeper and climb higher in life by building a foundation through education so they can achieve their goals and fulfill their potential. For additional information about Branches, please call 305.442.8306 or visit http://www.branchesfl.org.